Tuck Top Mailer Boxes - What Makes the Boxes a Favorite?
Published

By: John |

Published

On: 2022-05-17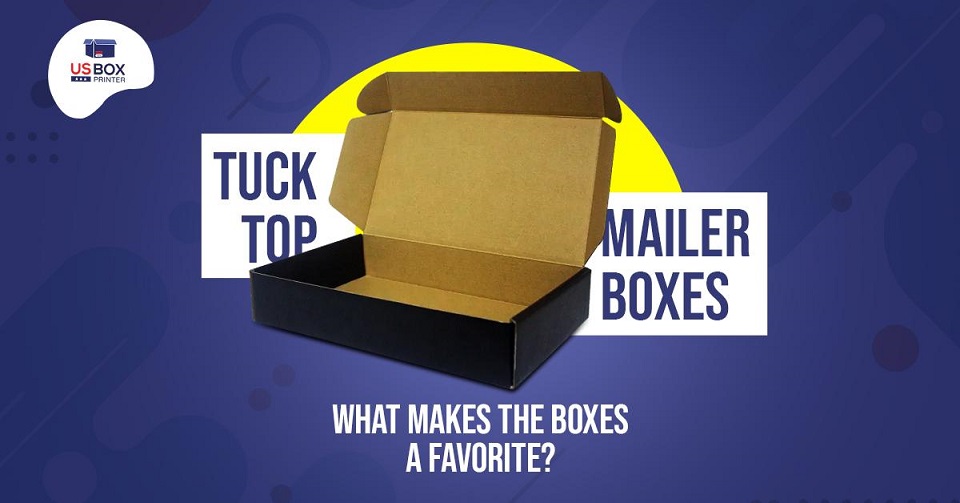 Your product packaging is not only necessary to improve the appearance of your product. More than that, choosing the right packaging is also about making sure your product is safe during shipping. It is guaranteed that your product will remain safe as long as it is packaged properly and securely. Tuck top mailer boxes are one of the safest ways many brands choose to pack and deliver their products. Not only that these boxes will be an affordable solution to keep your products safe in transit. Instead, more reasons make these boxes a favorite of many brands. Let''s dive in!
A Brief Intro about Custom Mailer Boxes
Custom mailer boxes are the popular boxes used to deliver any type of product. The boxes are usually wider and taller than a standard shipping box made of selected packaging material. These boxes come can be closed with a flap called a tuck top.
Thanks to the double-sided walls, these boxes are very sturdy and durable to deliver all types of products.
What Products Can Be Packed in Tuck Top Mailer Boxes?
These excellent tuck top mailer boxes come with many uses. Safe and effective use of these boxes can benefit a variety of industries. This includes shipping products such as groceries, cosmetic items, and pharmaceuticals. In fact, these boxes are also perfect for delivering various high-value products.
One of the best uses for these tuck mailer boxes is to ship perishables. These boxes'' extra space will help protect sensitive food items from damage in transit. Better yet, you will not need any glue when it comes to assembling them. Thus, we can say that these boxes can be very easy to assemble.
The Wonderful Features That Make the Boxes a Favorite
Keep on reading! Without any doubt, many brands new and experienced ones choose exceptional tuck top corrugated mailing boxes for reasons. Of course, these boxes offer wonderful features that make them a favorite. What are the features?
Come In Lightweight
As one of the most preferred shipping boxes, many logistics companies and retailers use tuck top mailer boxes. These incredible boxes are very easy to move from one place to another. Another great reason to choose these boxes is because of their lightweight. When it comes to shipping your products, you know that shipping costs will be calculated based on the weight of your products and the boxes. Accordingly, the lighter weight of the box also minimizes the total shipping cost.
White Tuck Top Mailer Boxes Are Affordable
White tuck top mailer boxes are available at very low prices. These boxes are easily available for retailers to purchase for their daily delivery operations. What''s more, these amazing boxes are usually made of:
Paperboard
Cardboard
Corrugated
Kraft
Rigid
The best thing is that, you can find all the materials above to be easily available in the market. Thus, you will find out that these boxes are not expensive at all.
Customizable Makes the Boxes Attractive
You can customize tuck top mailers to your liking. At UsBoxPrinter, you can get the boxes you need available in various designs, shapes, colors, and sizes. Even better, these boxes will be a versatile option for all types of products.
Yet, the best thing is that you can apply your design and other customization options to the boxes. This way, you can use tuck top mailer boxes also help build brand credibility in the market. These boxes are made of versatile packaging materials. In addition, these boxes provide clean edges and are made to the exact dimensions of the products to be placed. The layout design of these boxes has a flap at the top.
A Wide Variety Is Available
Many types and styles of tuck top mailer boxes are available for your brand to choose from. According to the product you will need to deliver, you can go with:
Eco-friendly Kraft tuck top mailer boxes
Elegant straight tuck top mailer boxes
Beautiful tuck top mailer boxes with window shapes
Lavish and luxury rigid tick top mailer boxes
Custom Mailer Boxes No Minimum Offer Extra Protection
Custom mailer boxes no minimum offer extra protection to your products placed inside all through the shipping journey. You can also add paperboard inserts to prevent further rolling within the boxes if necessary. If you need a more safety measure, you can add foam or other inner packaging materials to prevent damage to your products. Additionally, you can find the boxes come with an additional flap that locks the lid securely for safe storage and internal storage of products.
Help Increase Sales with Minimum Efforts
Many brands have been using tuck top mailer boxes as retail boxes to target a specific audience. For example, if made from biodegradable packaging materials, brands can use them to target green customers by meeting their needs.
The eco-friendly boxes will give customers the opportunity to play their part in removing debris from the planet. You can expand your customer base and increase sales with minimum effort by using these boxes.
Preserve Your Products during Transit
For any custom packaging boxes, one of the first things to look for is to deliver products from one place to another safely. In this regard, the boxes you use should have high strength and durability. The best thing about delivering your products with these excellent custom mailer boxes is that they are very protective. These boxes will provide permanent protection for the products inside. In addition, the boxes will help to reduce the possibility of damage. In simple words, these boxes will preserve your products all through transit.
Tuck Mailers Enhance Your Brand
Tuck mailers with superior printing technology allow you to create dramatic packaging for any product. All you need to do is apply more add-ons to create high-impact boxes that have the power to attract off-the-shelf customers.
The best part is that you can print brand elements on these boxes to establish your brand identity. It will give their customers immediate recognition potential. They will simply read your brand name from the printed signature theme to be able to identify your brand.
Tuck Top Mailers Allow You to Print Product Information
Tuck top mailers come with additional flaps that can be used to print brand elements and other product-related information. This additional flap is very useful if your brand needs to print industry-specific information. You can provide some detailed product descriptions such as:
The ingredients
The health benefits
Instructions to use
Cautions or warnings
And other related content
Provide a Great Visual Content
Many famous brands also use add-ons such as embossing or debossing to emphasize their brand through these boxes. White tuck top mailer boxes will provide more extra space for designing and printing your content. Indeed, these presentable boxes will be work well for your brand promotion.
Tuck Top Mailer Boxes Provide a Unique Customer Experience
Last but not least, as a marketing tool, customized tuck top mailer boxes are very influential and effective for good customer service. When a customer receives the box for the first time, your boxes should convey the warm feeling of your brand. This can be achieved by adding a brand name color or a simple message that appeals to customers on your tuck top mailer boxes.
Wrapping Up
So, if you are interested in getting impeccable tuck top mailer boxes to deliver your products, US Box Printer will be your best packaging partner. Contact us now!
Read Also:Where to Get the Best Wholesale Gift Boxes Los Angeles?