Top Design Ideas to Boost Sales with Ice Cream Cone Paper Cocering
Published

By: John |

Published

On: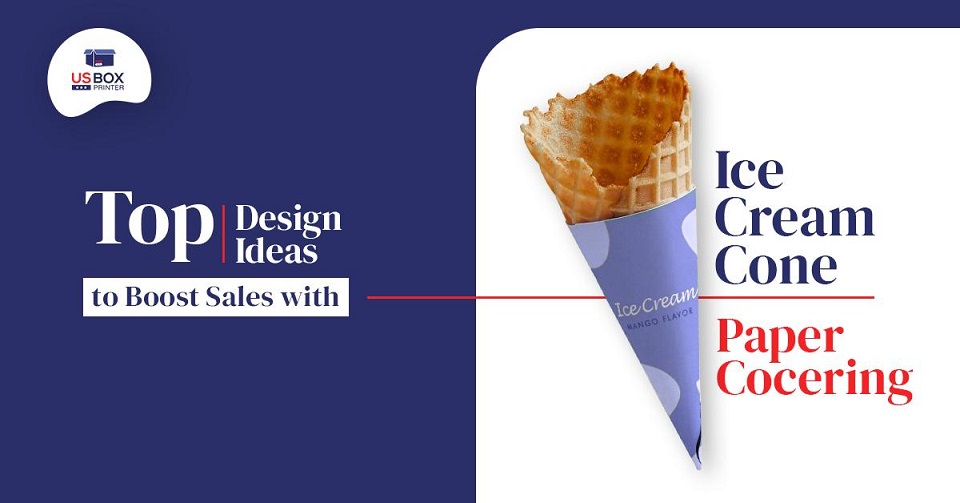 All of us, regardless of age, love to eat ice cream especially on the extremely hot summer season. Yet, the market demand for ice creams never gets reduced, even in the winter. Yes, we can say there is no specific season for heavenly delight ice cream. People can enjoy ice cream cones at anytime, anywhere. As a brand of ice creams, you can eventually make a huge difference by wrapping your ice cream cones in appealing ice cream cone paper cocering. To help you boost your sales, below are some top design ideas to make your ice creams cone look more mouthwatering.
Ice Cream Cone Paper Sleeves – Why Should Your Brand Choose Them?
We can never deny the fact that everyone likes ice cream cones. However, sometimes we get concerned if the ice cream cones will be soaked and our hands will get sticky while holding the ice cream. To avoid this fear, you can solve the problem using lightweight and beautifully designed by ice cream cone paper sleeves.
One of excellent things is that these sleeves can be made from a variety of materials. So far, paper is easy for everyone to handle. These sleeves will give your customers a more convenient option for handling your ice creams cone.
For example, people are interested in having an ice cream party during summer. Well, these cream parties are full of fun until you get a messy ice cream cone. As a brand owner, this is where you need the right ice cream cone paper cocering.
Even if you might have a tight budget and need a lot of cone covers, you can make them with your creative ideas.
Let''s Design the Most Appealing Ice Cream Cone Wrappers for Your Brand!
Nothing beats appealing ice cream cone wrappers when it comes to grabbing customer''s; attention and making them love your ice creams more. With hundreds or maybe thousands of brands offering ice cream cones in the market, without a wow product presentation, no customer would take a look at your ice creams.
The case will be different when you make your ice creams cone attractive in customer''s eyes. So, how can you possibly make them more tempting? Below are some design ideas to wrap your ice creams!
Apply High Resolution and Vibrant Colors to Your Design
Printing high-resolution images combined with vibrant colors will work amazing for your design. Yes, you can eventually promote your brand through printing options. These will make your ice creams stand out for those ice cream lovers. In addition, printing options will be great for printing on your waffle cone paper jackets for various events such as birthdays, parties, Christmas, and other special events.
For the color model options, you will find two different shade options to choose from. You can go with CMYK or PMS color model. Both techniques will work well to provide opportunities for flexography, lithography, offset, and digital printing techniques.
In addition, CMYK and PMS are available in different shades and at different prices. CMYK is not very expensive, but PMS might be a bit expensive. Thus, you can and should choose the right option based on your affordability. In the end, smart color choices will help in making your ice cream cones look more appealing. This way, you can build a strong presence in the market.
Add Decorative Materials to Your Ice Cream Cone Paper Cocering
Well, you can eventually make plain and boring ice cream cone paper cocering more exciting and attractive. Your authentic brand''s theme can add to enhance your brand appeal and show off your ice creams to the target customers.
To make them look more attractive, lovely decorative materials below will be valuable:
Glitter
Ribbon
Bows
Tie Knot
Lace
Apply A Foiling Technique to Your Waffle Cone Sleeves
Applying a foiling technique will make your waffle cone sleeves look more exclusive. This technique comes with the magnetic force to attract customers and drive them to buy your product. The most popular types preferred by many brands are gold and silver foiling. Many brands from different industries have been using this foiling technique and grabbing more attention. So, yes, it is worth trying!
Embossing and Debossing Techniques Make Your Ice Cream Cone Packaging Exceptional
Both debossing and embossing techniques are excellent ways to add descent and a sophisticated look to your ice cream cone packaging. The embossing gives a raised finish that can be used to highlight your brand name and logo. Meanwhile, the debossing will provide a more decent appearance.
Don''t Forget Your Branding Elements!
Indeed, your brand logo will be the first face that represents your brand in front of your target audience. Thus, when it comes to designing your brand logo, you need to consider some essential factors, such as:
The unique personality of your brand
The preference of your target audience
An exceptional brand story
Whether you want to use a minimalist or a fun brand logo should depend on the abovementioned three factors.
For example, a classic brand logo, as the name implies, is a traditional way of incorporating brand stories, history, and values. On the other hand, modern or urban brand logos are trending with dynamic, progressive, and simple fonts. A stylish and vibrant design will work perfectly if you wish to attract children.
So, make sure you understand your brand personality, target audience, and brand story before designing your ice cream cone paper cocering.
Understand the Changing Trends
We know that the market trends are constantly changing. More new ice cream brands enhance new flavors and appearance. In this context, you need to keep your brand always up-to-date with the changing trends.
Indeed, you need to understand and follow the changing trends that inspire customers. For instance, you can introduce the range of health consciousness to attract those health-conscious customers. Then you can place custom labels on your ice cream cone sleeves, such as:
Fat-free ice creams
Low cream ice creams
Vegetarian ice creams
And more
Wrapping Up
Yes, it will not be easy to convince customers when you are running a business in a highly competitive ice cream industry. As ice cream cones get a higher market demand, more new brands appear in the market to earn more profits.
Yet, when you can be creative in designing your ice cream cone paper cocering. You can eventually make milestones by applying your imaginative ideas and brand theme. So, if you are ready to boost your sales, you can count on USboxprinter as your best packaging partner!
Read Also:Tips to Boost Your Sales with Ice Cream Cone Wrappers