Tips to Boost Your Sales with Ice Cream Cone Wrappers
Published

By: John |

Published

On: 2022-05-24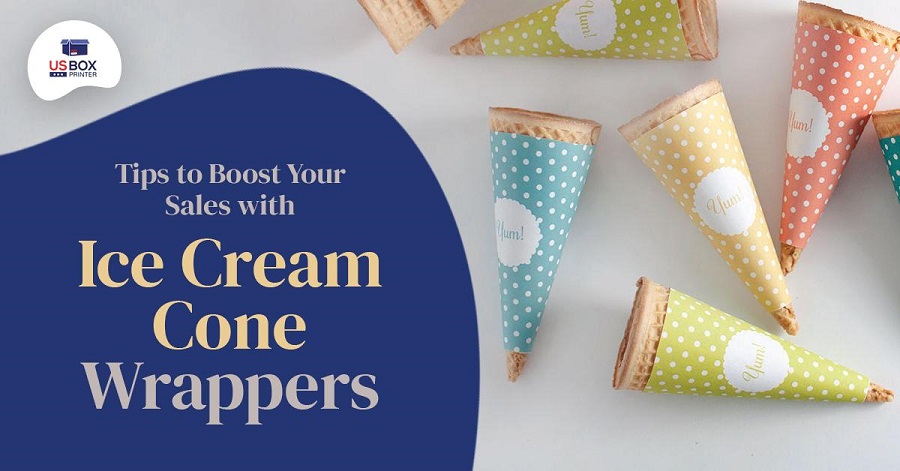 We all love ice creams; who doesn''t? Ice cream is also known as one of the most popular desserts globally and is loved by people of all ages. No matter what age they are, no one can ever resist heavenly tasty ice cream. Accordingly, the more popular a product is with customers, the higher demand it will get in the market. The same goes for heavenly tasty ice creams. With many brands offering ice creams in the market, ice cream cone wrappers can be your best approach to boost your sales.
The Importance of Ice Cream Cone Packaging
Ice cream cone packaging is made of premium material. This packaging will wrap your ice cream cone and give convenience to customers. More than that, this packaging also helps enhance your brand''s aesthetics. Another excellent thing is that it makes your ice creams to be more adorable for your audience.
Notwithstanding, you will get the chance to print the content on the packaging to make it look more attractive. What''s more, those add-ons will give you the extravagant ampleness to create a wow presentation for your target audience.
The Top Reasons to Go for Custom Cone Sleeves
Running a business in the food industry requires you to have proper packaging for a variety of reasons. Similarly, custom cone sleeves are essential to give a positive first impression.
Below are some of the reasons:
Protect your ice creams from dust particles
Make your ice creams be more eye-catching to attractive viewers
The best way to drive purchasing behavior
Perfect for branding and marketing strategies
The Role of Customization
Undoubtedly, customization provides the ability to make your ice creams more attractive and wonderful to customers. In fact, you can increase the value of your ice creams by choosing the size, ingredients, accessories, and many other options. Most importantly, you have the option to print any type of design you want to print.
Tips to Create Attractive Ice Cream Cone Sleeves
Without any doubt, the importance of ice cream cone sleeves can go beyond what you ever thought before. Thus, if you wish to win customers'' hearts, you should never neglect to get the best ice cream cone wrappers. Well then, how about designing them with your creativities? Yes, you can! Try out the tips below!
Choose Only High-Quality Material to Create Your Ice Cream Cone Paper
The first and most important thing you need to do is choose high-quality material for your ice cream cone paper. If you use low-quality material that dissolves easily due to moisture and tear, it will reduce the quality of your ice cream.
Thus, you need to use high-quality material that comes with a moisture-resistant to hold your ice cream. By partnering up with a professional packaging company, you will get the chance to choose the material you want to use. Kraft and cardstock will be perfect for serving your ice cream cones.
Focus On the Right Size When Designing Your Waffle Cone Sleeves
Remember that you need to choose the right size of waffle cone sleeves. Well, you will no need to worry at all. Yes, you can customize them according to your needs and preferences. In fact, you can choose from:
Mini cone
Small cone
Medium cone
Large ice cream cone wrappers
Make Your Ice Cream Cone Wrappers Beneficial To Your Target Audience
Ice cream cone wrappers must contain industry-recognized brand information. You need to print all products and brand information on the wrappers for customers'' convenience. Also, you can ask your packaging supplier to customize and brand your wrappers carefully.
Additionally, try to use your unique brand logo and font style while providing other information. This effort will protect you from future copyright issues and claims. Even better, this will, in the end, let you build a unique identity in the industry.
Be Creative And Convey Your Brand Message Through Custom Cone Sleeves
You need to be creative in choosing the elements that will help you convey your brand message. So, what can you actually do with your custom cone sleeves?
Apply your brand''s designs
Match your brand''s colors
Apply stylish text and printing options to showcase your brand''s values ​​
Print the slogan with your own font style
Foil wrap your ice cream cone wrappers to make them more attractive
Apply embossing, debossing, and texture to increase the value
By applying the options above, you can easily get your message delivered to your target audience.
Use ink-friendly ink toner
Be it a twin scoop ice cream cone or one scoop; ice cream is a dessert that people will consume. In this context, a low-quality wrapper that leaves ink stains on it can make it toxic. In addition, as it poses a risk to human health, you need to use ink-friendly when designing your wrappers. Ensure that your wrappers will be environmentally friendly and will never harm human health. This way, you can play your role in a green environment as well as provide convenient ice cream to your audience.
How to Improve Customer Experience with Your Ice Cream Cone Wrappers?
If you provide good products and service to your customers, they will always return to you. Product packaging is the main factor affecting or destroying your product image. Hence, if you want to stand out from the competition with your ice creams, you need to offer more than a good taste.
Attractive cone sleeves provide the best layer to protect your ice creams. Better yet, these sleeves will prevent your ice creams from dripping and confusion during meals. This way, these cone sleeves offer the best ice cream experience ever to your beloved customers. In the end, they will be paving the way for improved marketing and higher sales.
This simply means a completely comfortable and enjoyable customer experience. Make them enjoy your ice creams without worrying about getting their favorite clothes dirty. At USboxprinter, you can get the best ice cream cone wrappers to deliver a better customer experience. Give us a call!