Lip Gloss Packaging Ideas - Personalize Your Packaging!
Published

By: John |

Published

On: 2022-05-23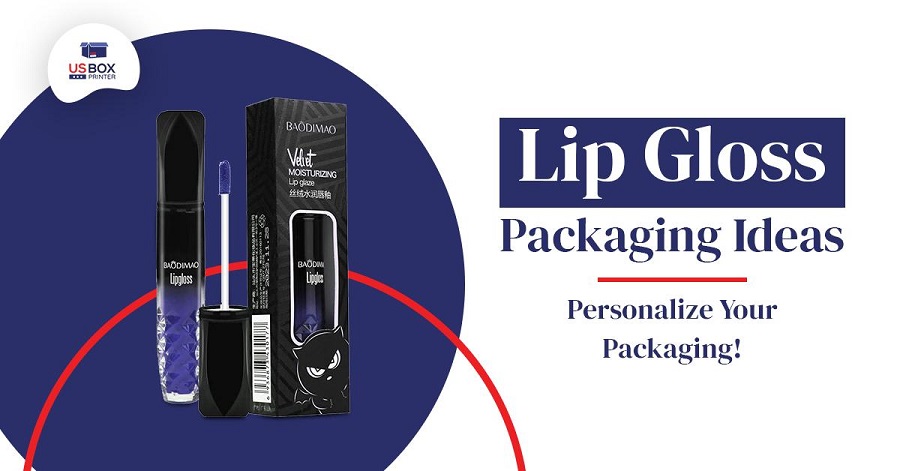 When it comes to selling best-seller cosmetic items such as lip gloss, you can never make any wrong first impression. It is clear that customers will always judge your packaging before purchasing your items. In the cosmetics world, this case applies even further. In this case, if you wish to boost more sales and build a strong customer base, you will always have to be smarter than the rest. This is where creative lip gloss packaging ideas will be valuable. To help you win this competitive market easily, let''s personalize your packaging!
Why Do You Need to Personalize Your Lip Gloss Packaging Box?
Apart from the reasons we mentioned above, personalizing your lip gloss packaging box will do more wonders. So, before we jump to the tips to personalize your packaging, here are some advantages you will get from doing so.
Custom Lip Gloss Boxes Build a Stronger Connection with Customers
If you deliver your lip gloss items to customer''s hands in standard boxes, there is nothing special about it. On the other hand, when you deliver their ordered items in personalized boxes, you are showing customers that you care. By doing this, you can eventually build a stronger connection with your beloved customers. How?
Here are some differences between the boxes!
Standard boxes
Come with standard size, shape, and design for all items
Made of the packaging material you cannot choose
Offer standard product protection
Custom lip gloss boxes
Highly flexible and customizable
Can be made of various packaging materials
Can be innovatively printed with your company and brand name
Offer extra product protection
Personalized Packaging Helps to Increase Brand Recognition
When you pack and deliver your beautiful lip gloss items in personalized packaging box, you will get the chance to print:
Your product''s name and descriptions
Your company name and brand logo
Your contact details
If customers feel satisfied with your lip gloss, they will want to make future purchases. When they find the contact details on the box, those customers will never hesitate to contact you.
Another great thing will happen when you need to deliver your lip gloss items to customer''s doorstep. All through the shipping journey, your box can grab more attention from those who might be unfamiliar with your company. In the end, this box will help to increase your brand recognition.
Appealing Lip Gloss Packaging Boxes Drive More Sales
Personalized boxes mean that the boxes are made exclusively for you. Who wouldn''t want to get any item that is made especially for them? By personalizing your lip gloss packaging boxes, you can drive more sales. How?
Adding a personalized touch to the boxes will make your customers feel happier and appreciated. As a result, you can make them be very loyal to your brand. Far better, loyal customers will love to spread the buzz about your items and brand. Thus, you can expect to get more sales within a brief time.
Cute lip gloss packaging ideas to draw more customers
In order to get more sales, the first thing you should do is drawing customers to love your lip gloss. You can do this by designing your packaging with cute lip gloss packaging ideas. Getting interested? Check out some tips below to design the packaging that will help you rock the market!
Trendy Ribbons Make Your Boxes Look More Elegant
Customers are spoiled with thousands of items on the market and lip gloss is no exception. When they search for the best lip gloss to purchase, they will see thousands of options come in different packaging boxes. Of course, each box comes with amazing features to catch the eyes of your customers.
You can eventually grab their attention by making your boxes look more attractive. You can play with your brand''s theme and color to decorate your boxes. For a wow product presentation, you can add trendy ribbons and ties to your boxes. This way, no customer will ever ignore your lip gloss items.
Luxurious Box of Lip Gloss Helps You Deliver Your Lip Gloss with Pride
People love to purchase exclusive and branded items. When you can deliver your lip gloss with a luxurious look, you will make customers happier to purchase only from you. When you work with an expert packaging supplier, they will provide lovely finishing options. All of the options will make your box of lip gloss look more luxurious and dazzling.
From a matte coating or glossy coating, gold or silver foiling to Spot UV, you can simply choose the one that best suits your needs. By having your lip gloss packed in an elegant box, you will be able to deliver your item with pride.
Promotional Offers Always Work for Lip Gloss Packaging Ideas!
Customers will always love to get more from the money they spent. Well, why don''t you take an advantage of this by adding exciting promotional offers to your lip gloss packaging ideas.
You can include promotional offers such as:
Buy one get one
Discount coupons
New launched item as a gift on your box
Small gifts to dazzle your customers
When those customers receive your lip gloss items along with tempting promotional offers, they will never think twice to make future purchases. By doing so, those customers will love to recommend your items and brand to their friends or family. Yes, more sales you can grab! Most importantly, this effort will let you boost brand awareness without any hassle.
Work with an Expert Packaging Supplier
When it comes to personalizing your boxes with cute lip gloss packaging ideas, you can never work alone. Instead, you will need help from professional packaging designers. In simple words, you will need to partner up with an expert packaging supplier.
USboxprinter provides all you need to realize your lip gloss packaging ideas. Our packaging specialists will work side by side with you to design and personalize your packaging boxes. With us, you can expect to get the best packaging boxes that will flaunt your lovely lip gloss. Contact us now!
Read Also:Luxury Eyelash Packaging Ideas - Lets Make the Packaging That Sells!