Luxury Eyelash Packaging Ideas - Lets Make the Packaging That Sells!
Published

By: John |

Published

On: 2022-04-11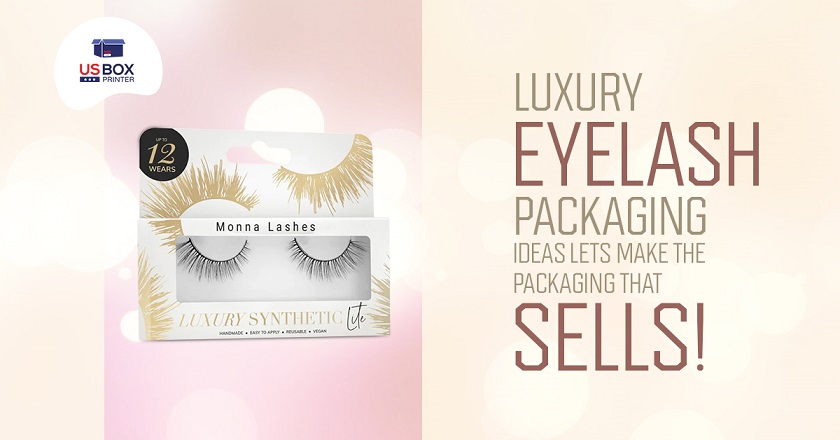 If we talk about presenting artificial eyelashes, nothing beats what unique packaging can do. Eyelashes are lovely and are supposed to make women look more beautiful. Yet, without a captivating product presentation, your eyelashes can never get higher sales. This is why you need luxury eyelash packaging ideas. In this post, you will find tips to design the right product packaging that sells!
Why Do You Need Creative Unique Eyelash Packaging?
Women are easily getting attracted to beautiful and cute things. This applies the same when it comes for them to choose any cosmetic or beauty products. If you think that standard packaging that looks boring can help you get more sales, you are on the wrong path.
As we can see many eyelash brands offering their premium products in the market, your brand needs to have a competitive edge. Yes, you need creative unique eyelash packaging to deliver such an eye-catchy presentation that will draw more customers.
So, if you are interested in grabbing more customers with your eyelash products, below are some cute eyelash packaging ideas to help you sell more!
A Simple Design Results More
As they said, sometimes simple can give your better results. Applying a simple or minimalist design on your product packaging can make those eyes calm in the oceans of colorful eyelash packaging boxes. To magnetize those customers, you donít need to make your packaging look crowded. Instead, a simple design can reflect elegance and classiness at the same time. This way, you can turn those heads toward your eyelashes without any problem.
Match the Color of Your Packaging with Your Brand Logo
If you want customers to purchase from you, the formula is to make them trust your product and brand. But first, you need to make them familiar with your brand name. Printing your brand logo on the packaging is a must. Even better, if you can match the color of your creative lash packaging with the color of your brand logo, it would be perfect.
Now when we say matching the color here, it doesnít mean that you have to use the same color. Instead, you can do mix and match the color of your product packaging with your brand logo.
For example:
Black packaging for a gold-colored brand logo
Pink packaging for a blue-colored brand logo
White packaging for a red-colored brand logo
Being creative with your design will give you a better result.
Use a Trendy Box Shape
Speaking of creative eyelash packaging ideas, why donít you try to make your packaging as trendy as you can?
People love to get trendy and modern things. Thus, if you would pack your products in the packaging with a trendy shape, your eyelashes are good to go. But what are the trendy box shapes you can choose from?
Drawer box shape
Two-piece box shape
Pillow box shape
Window box shape
Tuck top boxes
And more
Apply Glossy Finishing To Your Packaging
A glossy finishing will make your product packaging look more dazzling and shimmering. This coating option works very well when it comes to designing custom cosmetic boxes. The effect made by glossy finishing will appeal to more customers. Even better, it will make them perceive your eyelash products as of luxurious quality. After all, your eyelash products are exclusive. So, why wouldnít you show that to your customers?
Personalize Your Product Packaging
Personalizing your product packaging will be one of the smartest eyelash packaging ideas. Why?
We know that thousands of brands have been promoting their eyelashes. But what makes eyelashes from a specific brand different from others? Arenít these products look similar? Now letís take a moment and stand in your customersí shoes.
When you want to purchase eyelash products, would you be drawn to those in boring, unappealing packaging? Or would you choose beautiful eyelashes that come with cute creative eyelash packaging? The answer is quite simple here; people love to get more value from the money they spent. By personalizing your product packaging, you are showing your customers how much you care about their shopping experience.
All you need is to explore your creativity when it comes to personalizing your product packaging for eyelashes. Try out to:
Add a fancy ribbon to make it look like gift packaging
Apply a hangtag with your customer''s name on it
Slip a small note or gift card into the packaging
It is the small things that matter a lot.
Give Convincing Reasons to Purchase Your Eyelashes
Even for the most luxury eyelash packaging ideas, product details should never be ignored. In addition to describing your product to customers, you can eventually give them more convincing reasons to choose your eyelashes. How?
For example, you can provide the details that your eyelashes are made of exclusive ingredients that will not give allergy effect to those who apply them. Or else, you can use eco-friendly packaging to make those environmentally conscious customers love to purchase from you.
Another exciting thing you can do is tell a bit of your brand story on the packaging. If you have more than one product line, you can make a series of a brand story with your product packaging. After all, your customers would love to know more about the brand behind their favorite eyelashes.
Promotional Offers Will Do Your Marketing Strategy Perfectly
When it comes to selling your products more, creative eyelash packaging ideas can really help you out. You can drive customers more by giving enticing promotional offers through your product packaging.
Buy 1 get 1 promotion offer
A special discount
A gift of a new product line
And more
Yes, there are various ways you can grab more customers by giving them promotional offers. Far better, those customers can be very loyal to you and recommend your brand to others. More sales to expect!
Wrapping Up
Your product packaging can make or break your products perspective and brand image. In the context of eyelashes, you can design your packaging with the luxury eyelash packaging ideas above. In case you need design support from competent packaging professionals, USboxprinter is the one you can always rely on.
Have a nice designing!