Are Cereal Boxes Recyclable? Get the Complete Answers Here!
Published

By: John |

Published

On: 2022-05-15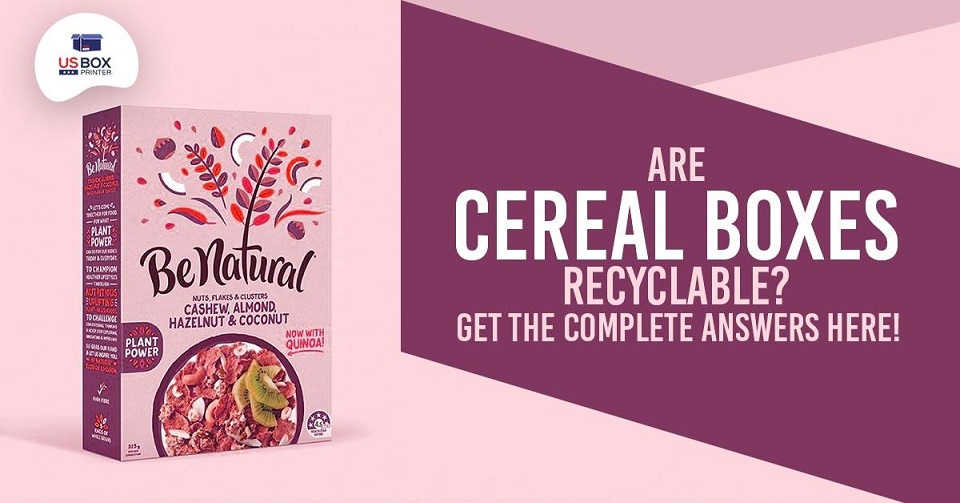 Speaking of delicious and healthy breakfasts such as cereals, we have to admit that many people worldwide love to have them. This fan club includes environmentally conscious customers interested in saving the planet. Therefore, if you are a cereal brand that wants to extend your audience''s reach, you should consider delivering your healthy cereals in recyclable boxes. But are cereal boxes recyclable? Can you design these recyclable boxes? Well, let''s reveal the complete answer...
Can You Recycle Cereal Boxes?
Yes, most custom packaging boxes for cereals are recyclable. Additionally, you can make the boxes to be recyclable. However, you can only make the boxes to be recyclable by using the appropriate packaging materials. Now, you don''t need to worry about this issue as there are many packaging suppliers to help you get eco-friendly materials for your boxes. For the most reliable packaging supplier, you can count on USBoxPrinter.
Why Should You Choose Recyclable Single Serving Cereal Boxes?
So, the question you might now is, why should you choose recyclable single serving cereal boxes? Is it possible to pack your cereals using these standard boxes? Well, yes, of course, you can go with standard boxes to pack and deliver your healthy cereals. But what will you get from using standard boxes? Check out the points below!
Most standard boxes are designed with non-recyclable materials
Standard boxes are only available in standard size and no custom design
Standard boxes can''t afford to emphasize and promote your brand
Standard boxes are unable to give you a positive customer feedback
What Should You Do with Your Blank Cereal Boxes?
If you are one of cereal brands, you know that you have a corporate social responsibility that you need to perform well. You can perform this perfectly by making makes your blank cereal boxes recyclable. To contribute to saving our planet, you should consider using eco-friendly packaging materials when designing your boxes. What are the materials?
Cardboard
Paperboard
Corrugated sheet
Kraft paper
Rigid
Can You Design Recyclable Mini Boxes of Cereal?
Of course, you can!
If your brand is environmentally conscious and wants to design recyclable mini boxes of cereal, you are already on the right track.
All you need to do now is to find a relaible packaging company to help you design your custom boxes. USBoxPrinter can be your most trusted packaging partner for getting recyclable boxes for healthy cereals. Our packaging experts will help you to choose the suitable materials, stylish printing options, coating options, and whatever you want on your boxes.
Tips for Designing Recyclable Cereal Boxes
Let''s take a look at some things that you need to consider when designing recyclable cereal boxes!
Please Select the Selected Packaging Material
As mentioned above, you need to use suitable packaging materials to design eco-friendly and recyclable boxes.
Cardboard - All brands in different industries know that this packaging material is popular to produce custom packaging boxes
Corrugated - This is a perfect material if you need to ship your cereals
Paperboard; This material is excellent for designing packaging boxes for almost any kind of product
Kraft; Kraft is popular for being the most eco-friendly packaging material
Rigid - Durable and eco-friendly properties make rigid an ideal option for making recyclable boxes
Measure the Exact Size of Your Boxes
Accurately sized boxes can significantly help minimize the waste of packaging material. By working with USBoxPrinter, you can customize your boxes completely. Yes, you are free to choose the exact size of the boxes.
Using the correct packaging material will help reduce the packaging waste. In addition, the exactly sized boxes will help you make an excellent first impression in front of your customer''s eyes. How? Well, who would to get a small quantity of cereals in a huge box? Instead, you will need mini boxes of cereal for this.
Choose the Coating Options Wisely
Undoubtedly, the coating options can make your custom cereal boxes look better. But have you ever wondered if this coating option is environmentally safe? If in doubt, in this case, you would like to work with experts at USBoxPrinter. Our competent team of packaging designers will recommend the best coating options you can choose to make your boxer look more unique. And, of course, you can be sure that all of the coating options are environmentally friendly.
Provoke Your Customers to Reuse and Recycle Your Single-Serving Cereal Boxes
Finally, you can encourage your customers to reuse your single-serving cereal boxes to contribute further. You can easily add a custom label to your boxes to indicate that the boxes can be reused. For example, you can write, "Let''s go green! These cereal boxes are recyclable!"
By adding this label, you can convince your customers to bring the boxes to the recycling facility. Most importantly, your customers will also know that they can always reuse your boxes.
How About Composting the Boxes?
Can we compost cereal boxes? There are different perspectives we should use to answer this question.
First of all, composting cereal boxes will be an excellent alternative to recycling them. Boxes containing paper napkins and leftovers can be easily placed directly into organic waste disposal. In fact, many places have been including cereal boxes in their organic collection programs.
Unfortunately, the second answer is no. Composting is impossible if the box is made of plastic-coated paperboard. In addition, wax-coated paperboard boxes can now be composted. However, do note that this only applies if the material coating consists of compostable beeswax.
So, Are Cereal Boxes Recyclable?
After reading this post, the question of can cereal boxes be recycled is no longer a big deal. Yes, your cereal boxes are recyclable. Even better, you can make them to be recyclable. At the same time, we can never ignore how recyclable boxes will help increase brand awareness and attract more customers. You can design the most eco-friendly boxes for your healthy cereals with the above in mind. On the other hand, you can never design recyclable boxes by yourself. This is why USBoxPrinter.com offers our dedicated assistance. We provide the best design support for creating recyclable cereal boxes that show off your brand.