Single Serving Cereal Boxes - Creative Ways to Design the Right Boxes
Published

By: John |

Published

On: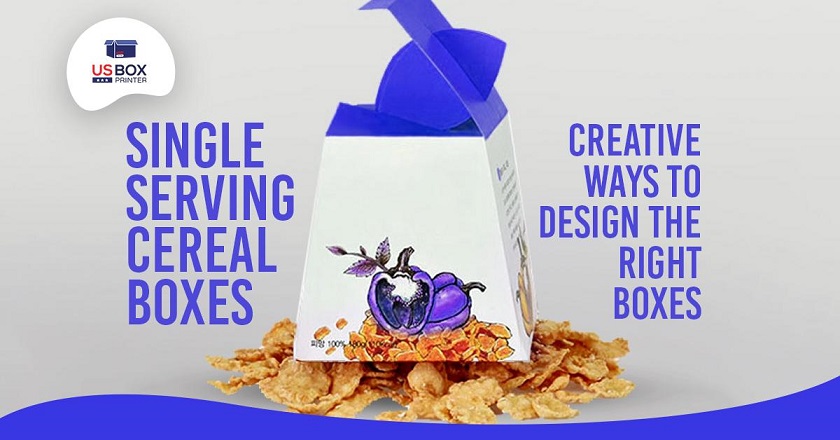 Cereals are one of the favorite morning meals people would love to have across the world. Accordingly, many new brands have started to take part in the competition to win customer''s hearts. Yes, to earn high sales, first, you would need to catch customer''s eyes. This is where your packaging boxes play a significant role. Speaking of grabbing customers with your boxes, let''s check out the most creative ways to design attractive single serving cereal boxes.
Know Your Products
Before designing any packaging box, you will need to know your products correctly. Cereals are one of those delicate food items that can be decayed due to environmental issues. The challenge will be more intense when you need to deliver your cereals. Yes, the shipping journey can be a nightmare if you pack your cereals carelessly.
Measuring the right sizes and dimensions of your boxes is a must thing to do for safe delivery. You will need to know:
How tall are cereal boxes do you need?
How big or small should your boxes be to protect your cereals?
How durable the boxes can protect your delicate cereals during transit?
By knowing your cereal products properly, you will be able to decide the suitable packaging material you should choose. In addition, perfectly measured boxes will ensure your cereals safety. You would have no worries if your cereals will be moving a lot inside in the right boxes.
Understand Your Market
Understand your market here means that you should know well about your customers. In addition, you also need to see what your competitors in this market are doing to promote and sell their cereals. Now let''s discuss them one by one!
Know Your Customers
This means that you should know and understand your customers, including:
What do those customers want to get from your cereals?
How do they want to see your blank cereal boxes
What types of cereals do they prefer to buy
See What Your Competitors Are Doing
When it comes to viewing what your competitors are doing to promote and sell their cereals, things that you would need to acknowledge are:
How do they pack their cereals?
Do they use standard boxes or custom boxes?
Do you need to design your own cereal box?
Do you need to hire a packaging supplier to help you with your box?
Design Your Single Serving Cereal Boxes
Once you can understand your market properly, you will be able to understand which types of boxes are perfect for you. Before designing your single serving cereal boxes, you need to know what image do you want to convey. For example, you need to think about:
The size - Do you need mini boxes of cereal or large boxes?
The material - Do you want to use cardstock, cardboard, kraft, corrugated, or rigid packaging material?
The design - Do you want to apply your authentic brand''s design?
The coating option - Do you want to apply a coating to your boxes? What type of coating do you like?
No matter how high your imagination is, make sure you will design the boxes that reflect your brand image ideally.
Consider the Effects
As a brand owner, you will need to consider every single business activity you are doing. Obviously, you don''t want to break your brand name by using dull boxes. Even worse, you surely don''t want to use the boxes that can harm the environment.
Perhaps you are still wondering are cereal boxes recyclable? Think can you recycle cereal boxes you made? If you wish to make environmentally friendly boxes, you will have to know the right packaging material you should use.
Well, it completely depends on the packaging material you would use for your single serving cereal boxes. For example, if you would use plastic packaging to wrap your cereals, well, this is not an excellent way to impress customers at all. What''s more, we know that plastic can take years to get absorbed. Hence, it will harm our environment.
The good news is, at USboxprinter, all our packaging materials come with environmentally friendly features. Thus, you have nothing to worry about if your boxes will harm the environment.
Customize Your Own Personalized Cereal Boxes
Customizing your own cereal box will be a clever marketing move to sell your cereals more. You will need to work with a reliable packaging company with high-tech equipment such as USboxprinter. The professionals in our company will let you design and customize the boxes as to how you want.
By customizing your boxes, you will get the chance to expose your cereal brand further. Not only will you get the opportunity to apply your brand''s authentic design to the boxes. More than that, you will be free to choose the color combinations, the images you want to apply, the printing style, and more.
Speaking of the printing style, you can engrave your cereal brand name and logo on the boxes with innovative printing. This way, it will be easy to transform those prospects to be your potential customers. After all, people love to get branded products, and cereals are no exclusion in this context.
What''s more, modern customers who turn out to be environmentally conscious will think about can cereal boxes be recycled. Plus, they would love to purchase your cereals if they come in recyclable packaging boxes.
Work With an Expert Packaging Company
As mentioned above, when it comes to customizing your boxes, you will need to work with an expert packaging company. When choosing the right packaging provider, think about what are cereal boxes made of. Ensure that the company produces high-quality custom boxes that will complement your cereals. Eventually, you can make the boxes speak loud about your cereal brand by customizing your boxes.
US Box Printer is the best packaging provider you can always rely on. We produce premium quality single serving cereal boxes from high-quality packaging materials. By working with us, you can rest assured that you will only get impeccable boxes to pack, present, preserve, and deliver your cereals perfectly. Simply contact us now if you wish to win the market easily by displaying your cereals with confidence.