Wonderful Ways Chocolate Strawberries Boxes Boost Your Sales
Published

By: John |

Published

On: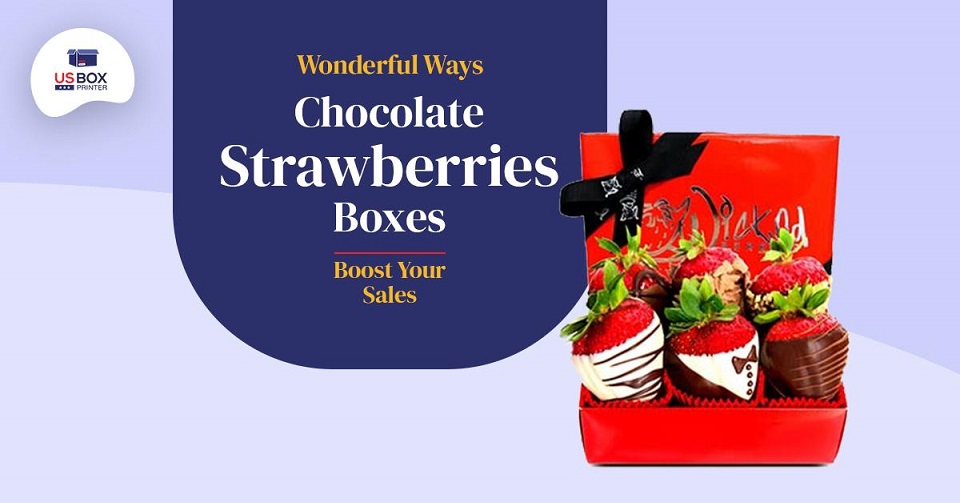 Chocolates, who doesn''t love to have a bite, or maybe two, of this sweet treat? People everywhere love to have chocolates anytime they want. In fact, some customers can be very loyal and only purchase chocolates from their favorite brands. Well, you can also make those market customers love to purchase delicious chocolate strawberries only from you. Ever heard about chocolate strawberry boxes? Do you know that there are wonderful ways these boxes can help you boost your sales? Yes, let''s dive in.
Chocolate Covered Strawberries Packaging Is Flexible to Customize
The important benefit your business can get from chocolate covered strawberries packaging is that it is highly flexible. Yes, this packaging comes with the flexibility that allows you to customize it. When it comes to attracting the market customers, customizing your packaging will be the best way. Why?
When you customize your product packaging, you will get the opportunity to:
Apply your own design from your creative ideas and branding theme
Decorate your packaging with the finishing options and add-ons you like
Make your packaging as durable as you need by choosing the packaging material
Highlight your business by printing your brand name and logo on the packaging
In simple words, the flexibility feature of chocolate strawberry boxes enables you to make your products more visible. What''s better, customizing the boxes will let you bring your brand name to the market with your style. In the end, you can expect to earn more sales by customizing your boxes.
Luxury Boxes for Strawberries Reflect Exclusive Products and a Positive Brand Image
The product appearance provided by your packaging boxes describes your product quality – bad or worse, actually. People view and still judge any product based on its appearance before deciding to purchase it. This applies the same when it comes to purchasing tasty chocolate covered strawberries.
Now let''s put yourself as a customer. When you want to purchase any chocolate, will you purchase the one in unappealing or unconvincing packaging? Or would you prefer to purchase chocolates packed in elegant and trendy packaging boxes? Well, you know the answer perfectly.
By having luxury boxes for strawberries, you are showing your customers how exclusive your chocolates are. At the same time, these boxes will deliver a positive brand image your business wants to get. Any customer who sees how delightful your chocolates are in these boxes will not hesitate to bring them home. The more luxurious your boxes are the more customers and higher sales you can get.
A Unique Box for Strawberries Makes Your Products Fly Off the Shelves Quickly
Unfortunately, many chocolate brands still use standard or ready-made packaging boxes to pack their chocolates. What can you expect from your sales if you do the same thing as these brands?
Well, we are talking about the most famous and delicious chocolate covered strawberries right now. If you wish to make your products fly off the shelves quickly, you must make your chocolates look different than others. This is where exactly you need a unique box for strawberries.
Remember that we buy by seeing means that our eyes play the role when deciding to purchase. Thus, if you pack and present your chocolates with this box, you will see how quickly your chocolates will fly off the store shelves! With captivating box wrapping and displaying your chocolate covered strawberries, no eyes can resist.
Exclusively Designed Strawberries Boxes Provide a Better Shopping Experience for Customers
The fact is, we all love to purchase from brands that make us feel valued. It is no difference in this chocolate market industry. No matter how delicious your chocolate covered strawberries are, if you cannot make customers love your brand, you can forget to boost your sales.
Making customers love your brand doesn''t mean that you need to spend a huge budget, by the way. Instead, exclusively designed strawberries boxes will help you provide a better shopping experience to customers. How?
Make Customers Love to Purchase More
Now imagine ordering chocolates from online shopping and receiving them at your doorstep in branded boxes. When you open the boxes, you find a special "thank you" note written on a lovely gift card. Wouldn''t you will love to purchase chocolates from that brand again? Of course, you will! Well, this is how customers will feel.
Inspire Customers to Record Their Unboxing Video with Unique Boxes
When you deliver your chocolates in lovely chocolate strawberry boxes, customers will be amazed the moment they receive them. Even better, when you design the boxes with a unique shape, customers will be more excited to open the boxes.
For example, you can try out designing your boxes with unique shapes such as:
A heart shape box
A pillow shape box
A hexagon shape box
A two-piece box
A drawer box
And other charming shapes you can think of
Who knows? Your boxes can actually inspire them to record their unboxing video.
So, how can you provide a memorable shopping experience to customers? Many ways to do that. The formula is simple here; customers you can impress = more sales you can get! After all, small details can eventually mean a lot.
Eco-Friendly Long Boxes for Strawberries Help You Perform Your Corporate Social Responsibility
Brands that perform their corporate social responsibility get more trust and attention from the market customers. Yet, you cannot do this by using standard packaging boxes. Instead, eco-friendly long boxes for strawberries will be perfect to help you out in this context.
You can choose various packaging materials to produce the boxes for your chocolate-covered strawberries. The best part is that all the packaging materials are environmentally friendly. As a result, you can draw more customers while performing your corporate social responsibility. This is something those standard packaging boxes cannot offer your business.
Chocolate Strawberry Boxes – The Qualities Your Boxes Should Have
Without any doubt, there are many wonderful ways chocolate strawberry boxes help you boost your sales. However, you can get all the benefits ONLY if you design your boxes properly. So, what are the qualities your boxes should have?
Your custom boxes should be highly durable to give extra product safety in shipping
Your custom boxes should have an attractive design to give a wow product display
Your custom boxes should be unique to differentiate your chocolate covered strawberries
Your custom boxes should look luxurious and trendy to compete with other chocolate brands
Your custom boxes should reflect your brand image accurately and as positive as they can
Your custom boxes should be budget-friendly
When you design the boxes for your chocolates, you must remember the qualities above. We know that you can never go wrong when you have the right boxes wrapping your products.
Where Can I Buy Boxes for Chocolate Covered Strawberries?
Hundreds of packaging suppliers on the Internet are offering custom boxes you can choose from. However, if you need top-notch quality boxes for chocolate covered strawberries, you should choose an experienced packaging partner. Also make sure to check out the quality of the boxes they offer. Plus, it would be best if you also see the reviews from their previous clients.
To make things easier for you, USboxprinter can be your best stop to go. When it comes to designing the most impeccable chocolate strawberries boxes, we take pride in measuring the quality. Give us a call if you are ready to boost your sales with attractive boxes for your chocolate covered strawberries!