Why Does Your Business Need to Consider Purchasing Bulk Packaging?
Published

By: John |

Published

On: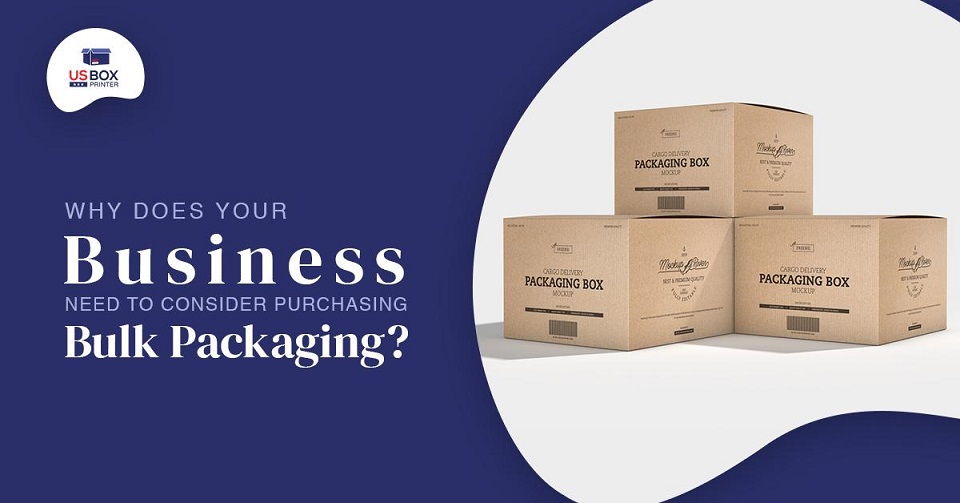 When we hear the word packaging, we will immediately think of the products we purchase as a customer. As customers, we want to get products that are attractive to our eyes. To make milestones in the market, you will want to grab more eyes and get higher sales. At the same time, you know that you still need to manage your spending budget. This is only one of the reasons why your business needs to consider purchasing bulk packaging. Yes, there are some compelling reasons why your business needs this packaging. Let''s talk about the most convincing ones!
What Is Bulk Packaging?
Indeed, a completely different world of packaging takes place behind the scenes long before the shampoo bottles we buy line up on the shelves. This is the real bulk packaging definition. The manufacturing industry can efficiently produce all the products packed in the packaging that customers will enjoy.
In addition, getting this packaging will definitely help your business to grab more profits by spending a low expense. How? Let''s dive in.
Why Do You Need the Right Packaging?
Yes, why do we need the right packaging anyway? Product packaging is just packaging, isn''t it? After all, the product packed inside is more important.
Well, if you think this way as a business owner, you will run the risk of failure. The fact is, your product packaging plays a more important role. What are the roles? Keep on reading!
The right packaging drives customers'' purchasing decisions more than you might think
Product packaging conveys a lot, from what a product can do for customers to the value of your company
Product packaging is an important marketing and communication tool for your business
In simple words, when you think about your brand''s success, you will know how important the packaging boxes in bulk are.
Authentic Packaging Differentiates Your Brand from the Rest
Today, we can find thousands of products are getting the attention of customers in the market. According to research, one-third of customers'' purchasing decisions are based exclusively on product packaging. To win the market, your product packaging needs and has to stand out. Yes, your product needs to look different from the rest.
When you order for custom packaging, you will get the chance to design it with your creative ideas and brand theme. This way, your packaging will be unique and different. Now imagine if you get your bespoke packaging in bulk. Definitely, more customers will be familiar with your brand. As a result, you can spread brand recognition wider.
In addition to being your brand ambassador, bulk packaging also helps you to minimize the spending budget. In simple words, we can confidently say that this packaging is the most cost-effective marketing strategy your brand can ever get.
Well-Designed Packaging Influences Customers'' Purchasing Habits
How?
Well, the colors you apply to your product packaging play an important role in driving customers'' purchasing decisions. The human brain responds to color differently. In this context, you need to choose the color accordingly. Some experts say that the more colors you can add to your packaging, the less classy the product is.
For example:
A product in white product packaging represents simplicity, safety, and purity
Other colors, such as blue, can represent many different meanings
People see bright sky blue to be more playful
Dark navy can make your packaging look much more professional
Without any doubt, blue is the most popular color in the world. Yet, that doesn''t mean that you should automatically choose this color. Instead, it is highly important to research your target audience before deciding on a color scheme for your product packaging. After all, you surely don''t want your bulk buy packaging to become useless if it doesn''t look appealing to customers.
Creatively Designed Packaging Will Be Your Best Marketing Device
Creatively designed packaging will be a useful and even the best marketing device you have through in-store advertising. The fact is, branded products are easy to identify by customers. Thus, placing your brand logo on the front and center of your packaging will help customers remember your product the next time they make a purchase.
In this case, you should consider about what your packaging says about your product packed inside. Additionally, consider how it reflects your brand identity. Does your packaging reflect your brand identity perfectly? Can it even be better?
In addition, it will be a good idea to think about the message you want to deliver to your customers when designing your packaging. This is an important thing, especially if you decide to do bulk packing.
Original Product Packaging Creates Recognition Value
Now let''s act as a customer and take a look back at some of those worldwide famous brands. Don''t you notice that all of those brands have one thing in common? Yes, they have unforgettable logo and product packaging. For instance, famous brands like Coca-Cola have made subtle changes to their bulk packaging throughout the decades. At the same time, this famous brand still retains its original look.
In addition, some successful brands that have changed their logos, colors, or packaging have experienced some sort of backlash from customers after significant changes. The lesson we can take is that you should not change the recognizable points from your packaging.
The Promising Benefits of Purchasing Bulk Packaging
Now that you know bulk packaging meaning and the importance of product packaging, this question might come to your mind. So, what are the benefits your business can get from purchasing bulk packaging? Here they are!
Bulk Purchases Offer Cheaper Rates Per Unit
This is the greatest benefit when purchasing packaging boxes in bulk. It will help you save money each time you use the packaging boxes, in most cases. There might be a slight difference or perhaps just a few cents for each packaging. Yet, getting bulk packaging means that those cents will be added immediately. For example, if you save 10 cents on each packaging, that means you can save $36.50 in a year.
Bulk Purchases Help You Manage the Stock of Your Product Packaging
When you make bulk purchases, your product packaging will not be out of stock. This will eventually reduce the possibility of requiring repurchase of your packaging, which would normally cause additional costs.
Bulk Buy Packaging Is More Environmentally Friendly
When you decide to bulk buy packaging, you can minimize the amount of packaging materials to produce your packaging. The formula is simple, actually. When a packaging company such as USboxprinter produces your packaging in bulk, they will use the packaging materials in one go. This also means that they will use fewer resources to create your product packaging.
Wrapping Up
Without any doubt, purchasing bulk packaging can benefit your business in the long run. So, if you are interested in minimizing your budget while maximizing your profits, this packaging is perfect!