Tips to Make More Sales by Designing Hat Boxes with Handles
Published

By: John |

Published

On: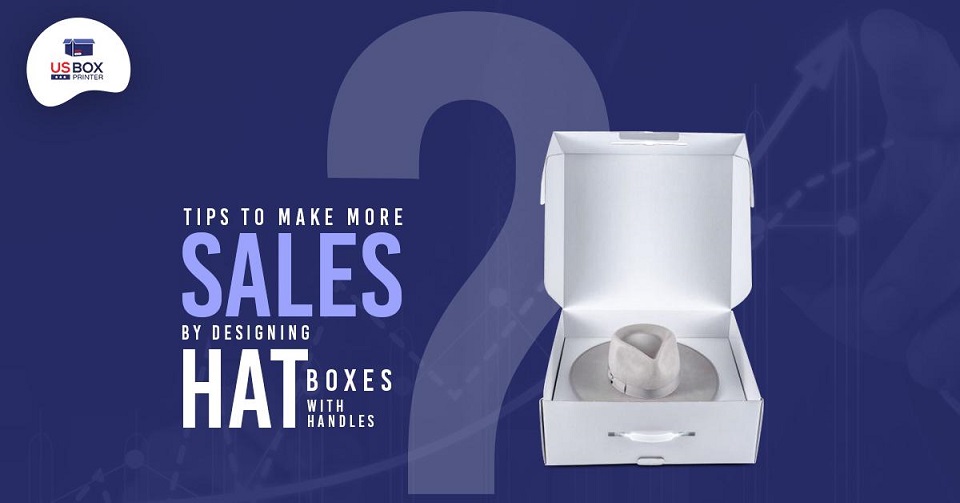 Hats today are one of the most wanted apparel products. People love to use these products to complete their confident appearance. Eventually, many of us love to present hat products as wonderful gifts for our friends, family, and beloved ones. On these special occasions, you should present your hat products lovelier if you want to grab customers'' attention and make more sales. This is where you will love to design your own hat boxes with handles according to your brand concepts. Accordingly, you can also choose from various style options for the boxes. So, let''s find out how to make more sales by designing your boxes!
Reasons to Go with Custom Hat Boxes
Before we dive into the best options for your boxes, let''s find out why you should go with custom hat boxes. Wouldn''t it be enough to pack and display your hats in ready-made boxes?
Well, there is nothing wrong with packing and presenting your hats in standard packaging boxes. On the other hand, custom boxes are ideal if you wish to grab more benefits and higher sales from your products. Here is the reason…
We know that there are millions of hat products from different apparel brands on the market to spoil our customers. Some of these hat products have similar properties and even similar looks. So if you pack your hats in standard or off-the-shelf boxes, how do you make them stand out?
On the other hand, when you present your products in creatively designed boxes, they will immediately grab attention. How?
Because custom boxes come with great features such as:
They are designed with an authentic brand theme
The boxes provide the amazing look and feel you want your customers to perceive from your products
They help you highlight the highest quality of hat products inside
The innovative printing style on the boxes enables customers to know more about your hats
Custom boxes entertain the unboxing videos with impressive product presentations
The boxes will help you build a strong customer base by shaping a positive brand image
They come with eco-friendly features to assist you and customers create a greener, healthier environment
In other words, custom boxes will be the best tool to reach more customers easily and quickly.
Plan Your Spending Budget First
Planning your spending budget to create your boxes is the first task to complete. Like everything, the more customization options you add to the boxes, the costlier they will be. Yes, you need to consider your budget conditions to see if custom boxes make sense to help your branding.
For instance, you should go with a bulk purchase if you want to deliver multiple hat products cost-effectively. On the other hand, you can also order fewer quantities of boxes to manage your budget. In addition, you should also measure the proper size for your boxes.
Choose from the Best Packaging Styles for Hat Packaging Boxes!
When it comes to choosing the right style for your boxes, it depends on your product and packaging needs. Yes, custom boxes are not the same as standard boxes, where one type fits all types of products. Instead, you can ultimately design the perfect hat packaging boxes for any type of hat product you want to offer in your market.
There is no doubt that custom boxes offer more than off-the-shelf boxes provide to your brand. But what kind of style fits your business needs and requirements? Below are the best packaging style options to consider to highlight your hat products amazingly!
1. Window Packaging Style
As the name suggests, the boxes come with beautiful window shapes. This packaging style will be perfect for presenting your hat products as gifts. Many apparel brands rely on this packaging style to bring attention to their exceptional and branded products.
Apparently, there are many reasons why this packaging style has become a favorite among many brands. Another thing you will love about this style is that you are free to choose the window shape you like.
Yes, in addition to standard square windows, you can also use:
A heart shape
An oval shape
A hat shape
Or any shape you want for your boxes
Displaying your hat products in wholesale hat boxes with window will earn your customers'' trust. How?
Because the window you attach to the boxes allows customers to see the actual shape of your hat products inside the boxes. This is how they perceive your brand as trustworthy.
2. Two-Piece Packaging Style
A two-piece packaging style gives your hat products a luxurious look inside. The elegant two-part layout enhances your product''s branding and luxury. Whether you need to design a baseball cap packaging box or other types of hats, this packaging style will work perfectly to present your hat products as memorable gifts.
3. Display Packaging Style
You might have seen many different types of display boxes in retail stores. Yes, display packaging style will help you get more attention from those customers without spending a huge budget. All you need to do is place these hat boxes in the most strategic locations of the stores. The open display style will then encourage your customers to pick up your hat products. Thus, they will further explore the quality and appearance of your products.
4. Hat Boxes with Handles
Presenting your hat products in this attractive packaging style will convince more customers to make purchases. As the name suggests, hat boxes with handles come with a convenient handle shape on the top of the boxes. This handle gives your customers a more comfortable experience when carrying your products.
What About the Packaging Design?
The design of your boxes is another essential thing you should focus on after choosing the right style of your boxes. Remember that the main reason for designing your own boxes is to make more sales from your hat products. Thus, you cannot ignore the packaging design at all.
Well, you don''t need to worry at all, as there are many wholesale hat boxes suppliers ready to help you out with the packaging design. You can check out the design ideas below to make things much easier!
A Vintage Design
Many people associate the word "vintage" with "old-fashioned."
Well, they are not completely wrong, actually. However, the word means more than just pointing out the age. In fact, vintage today comes up with a broader meaning as it refers to all products made in the last few decades. This includes fashionable, trendy, and of course, high-quality products.
In the context of packaging design, vintage reflects the design with simple labels or stickers in general font style.
How About Using Stylish Typography?
Stylish typography is all around highlighting the visual elements of written words on your custom hat boxes. For instance, you can combine clever wording and lively images into a compelling design element. Then, you can use an eye-catching font style to create a tempting desire for your customers.
Choosing a Unique Shape Is Important for Your Packaging Boxes
Combining images, color, and typography are the best ways to achieve the right visual impact that complements your hat products. Ultimately, choosing a unique shape for your boxes is ideal for grabbing attention. For example, you can choose a relevant shape for the hat products you want to offer.
Try Out the Innovative Die-Cut Design
Of course, your hat boxes with handles should protect your products properly. You can include your product in the packaging design element in some specific situations. To do this, you can consider making one or two innovative die-cuts on the boxes and showing a small portion of your products. In addition, you can also expose the parts of your hat products with graphics (a combination of stylish text or images).
Always Focus On the Main Function of Your Boxes
The way you will sell your hat products to the market influences how you should design your packaging boxes. If you want to sell your hats online, you will need protective boxes to secure them all through transit. Meanwhile, attractively designed boxes will work well if you want to sell your hat products in apparel stores.
Environmentally Friendly Boxes Always Work Well
Those customers who care about the environment will love to purchase environmentally friendly products. You can consider environmentally friendly hat packaging boxes to take advantage of this. You can choose from biodegradable, recyclable, and environmentally friendly materials to produce the boxes. Remarkably, you will find these eco-friendly materials available at reasonable prices.
By using these boxes to wrap and present your exclusive hat products, you can grab the attention of those environmentally conscious customers. What''s more, you can eventually grab more profits from using eco-friendly boxes. How?
Not only that the packaging materials for these boxes are readily adaptable. What''s more, you can also print anything related to your brand on the boxes. In the end, these boxes will be a highly successful branding technique for increasing your sales.
Wrapping Up
Designing hat boxes with handles according to your branding style and ideas will, for sure, help you make more sales. This marketing strategy will let your brand strive in the competitive apparel market industry. So, if you are ready to realize your creative design ideas, you can start working with the professionals at US Box Printer!