Tips and Tricks to Design the Right Boxes for Cookies Packaging
Published

By: John |

Published

On: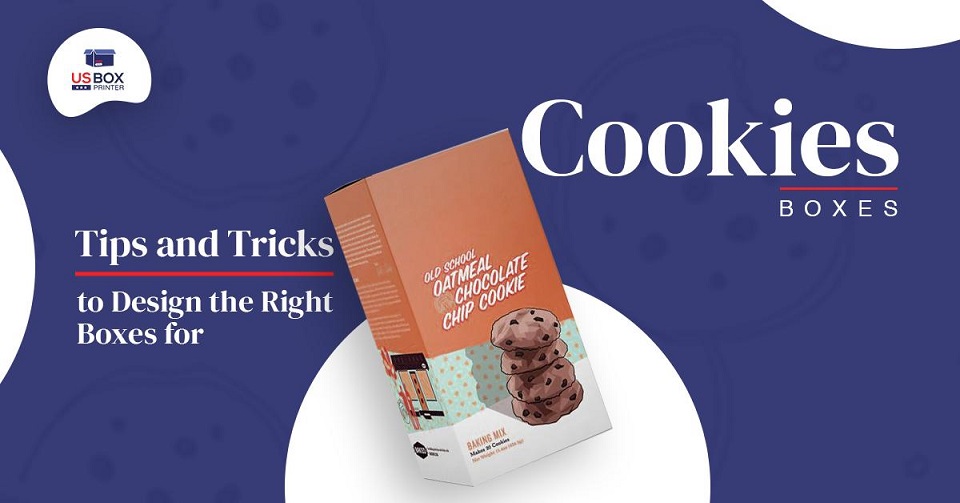 Considering thousands of cookie brands offering their delicious cookies in the market, obviously, you need to be more creative. After all, your tasty heavenly cookies deserve the best product presentation, don''t they? Well, believe it or not, this is only one of the main reasons for you to get the right boxes for cookies packaging. But wait, what about designing the boxes by yourself? Below are some easy tips and tricks you can follow to design the boxes with your creativity!
Why Should You Choose to Use Custom Cookies Boxes?
No matter how delicious the cookies you have baked, there is no way you can sell them without presenting an attractive display. In fact, no one would ever get attracted to take a look at your cookies if you cannot convince them.
The fact is, product presentation matters greatly, no matter in which industry you run your business. In the bakery industry, the case even applies further. We know that there is not a single bakery item comes to the market without product packaging.
Eventually, customers always prefer to get delightful cookies presented in an appealing product display. This is where custom cookie boxes come in handy. Many brands have been promoting their cookies by making the best custom boxes for their cookies. Why?
Here are some reasons why!
Exclusive Cookie Boxes Packaging Reflects Exceptional Cookies
Now imagine when you see messy, unappealing packaging wrapping cookies. What will be in your mind? No matter how delicious those cookies are, you wouldn''t want to taste them as you are not excited about the presentation.
On the other hand, when you see exclusive cookie box packaging, you might not think about the taste of cookies inside. As the boxes interest you, you will not think twice about bringing the cookies home.
The scenarios above happen to customers, every time they need to purchase cookies. In fact, we know that sometimes we will purchase cookies even when we didn''t plan it before. All because we are attracted to the display. In brief, the way you present your cookies influences customers to make purchases.
Customized Cookie Packaging Boxes Offer Freedom for Your Creativity
When it comes to customizing cookie packaging boxes, you are free to explore and express your creativity. You can decide every inch of the boxes as you want them to be. To make the boxes look more appealing in customer''s eyes, you can:
Apply your authentic brand''s design to spread a buzz about your business
Protect your delicate sweet cookies by choosing the right packaging material
Measure the right size of boxes for extra protection during shipping
Convince customers with your product details
Inspire future purchases by providing your contact details
Turn those prospects into your loyal customers
Durable Cookie Boxes for Shipping Help You Bring Your Brand Name
Nothing beats protection combined with quality when it comes to shaping a positive brand image. You can do this by choosing durable cookie boxes for shipping your delicate delight cookies. Whether you are offering your cookies in your own bakery shop, retail store, or online shop, you will need sturdy boxes to deliver them. Why?
Because no customer would want to get the cookies in damaged pieces when they reach home. Thus, to assure them, you will need to choose the right packaging material when designing your packaging boxes. This way, you can easily bring your brand name to the market.
Let''s Design Appealing Boxes for Cookies Packaging That Draws Attention!
Indeed, there are many reasons to use exceptional boxes to present your delicious cookies. Accordingly, designing appealing boxes for cookie packaging will help you draw customer''s attention within a brief time. So, let''s get started then!
Make Your Cookie Box Wholesale Beautiful with Finishing Effects
Finishing options are the best add-ons you can get to make your cookie box wholesale look more beautiful. Depending on the appearance you want, there are various wonderful coating options you can choose from. What are they?
Foiling – You can consider applying gold or silver foiling to make your box look luxurious
Coating – Apply a matte or glossy coating option to make your box look trendier
Spot UV – Applying this technique will shield your box while making it look shinier and lavish
Embossing or debossing – Both techniques allow you to make your brand logo more visible
Sync the Fonts, Colors, and Images Properly
Stylish fonts, lively color combinations, and visually appealing images will be a perfect combination for an ideal packaging design. When we are talking about designing the best custom food boxes, there are some things you need to consider.
The style of fonts you choose should be easy to read and trendy at the same time
Providing the list of ingredients, manufacture, and best before dates, as well as your contact details is important.
The color combination should match the color of your brand logo
You need to match the color combination of the boxes for cookies packaging with your brand color. Don''t try to overcrowd the design with colors that are too bright. On contrary, you should not make the design look dull with dark color either.
The images should be transparent and relevant
Be honest and transparent with your customers. Print the images of your cookies that reflect the actual look the cookies are offering.
Keep Your Packaging Design Simple with a Lovely Window Shape
When customers purchase cookies, they would want to enjoy them with peace of mind in their special moment. Thus, if you make your boxes look overcrowded, they will feel bored the moment they see them. Instead, you can eventually keep it simple by adding a lovely window shape to your cookie boxes bulk.
By adding a beautiful window shape, you don''t need to explain more about your delightful cookies inside the boxes, as those customers will get the chance to view your cookies through the window. These memorable sneak peeks will be the one that drives their purchasing decisions easier.
Eventually, you can be more creative with the window shape. How? Instead of having the common square shape for the window, you can get them in unique shapes such as:
A heart shape
A flower shape
A round shape
A triangle shape
And more other custom shapes you can choose
Consider the Budget When Designing Your Cookie Boxes in Bulk
Of course, you want to do the best you can when it comes to presenting your cookies to draw more customers. However, do note that you also need to consider the budget when designing your cookie boxes in bulk. How should you do that?
Use the right amount of packaging materials according to your product specifications
Choose the packaging material according to your packaging needs
Order your boxes in bulk
Don''t make unnecessary customization on your boxes
Remember that your main goal here should be drawing as many customers as possible. On the other hand, you surely don''t want to exceed your spending budget for the packaging costs. So, make sure to calculate your budget and use it wisely. Also consider the shipping costs you will have to spend when sending your cookies inside the boxes. Lightweight boxes will definitely minimize the shipping costs significantly.
Final Ideas
Baking your cookies require you to put the love and passion you have to make heavenly tasty cookies. You should do the same when presenting them to your customers. By having the right boxes for cookies packaging, you can draw in more customers toward your cookies. US Box Printer will be your best packaging partner if you are excited to design appealing boxes with your creativity. Give us a call for more details!