Tips and Tricks to Customize Baseball Cap Packaging Box
Published

By: John |

Published

On: 2022-08-08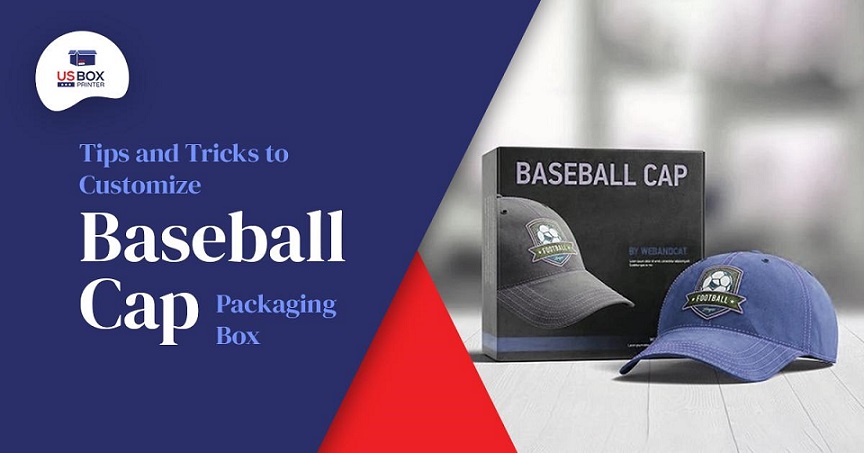 The most important thing to winning this highly competitive market is to deliver a wow product presentation. This factor is essential for brands to focus on selling apparel products such as hats. If you want to catch more eyes, you will need your packaging to be eye-catchy. This is the fact that you should never ignore as a brand owner. But this should not make you get a headache either. Here, we have some easy tips and tricks to design and customize the best baseball cap packaging box to catch more eyes!
Know The Importance of Customizing Your Hat Packaging
Have you ever wondered why do you even need to design and customize your hat packaging? Why can''t you simply use ready-made packaging that is easily available in the market? After all, designing and customizing packaging will take more time and money, right?
If you still have those kinds of thoughts in your mind, well, you can leave your dreams to grab more sales. The fact is, we buy with our eyes. This means that we purchase things that attract our eyes. We will eventually feel confident and proud when we purchase branded products.
When you design and customize your baseball cap packaging box, you can make your products look more appealing. Better yet, you can make those customers fall in love with your hats by simply looking at the appearance of your packaging box. In the end, you can expect to see a boost in your sales by having branded packaging for your hats. Thus, customizing your packaging is something you will love to do!
Let''s Start Customizing Your Round Hat Boxes Wholesale!
Customizing your round hat boxes wholesale from scratch is not a complicated task to complete. In fact, it will be very fun and exciting things you can do. Why? Because customizing your boxes means you can run your creativity freely. So, let''s get started then!
Retro Design Is Trending Again!
If you would explore the apparel market industry, you will see how the retro design is trending again for many boxes for these products. How?
You might have heard the words "Old is gold".
Yes, the retro design for the baseball cap packaging box brings customers back to the old days to remind them of their sweet memories. Indeed, this type of design will never be out of date at all. If you think that retro design will make your box look boring, you will need to think again.
So, what elements can create a retro design?
Combining the black colored packaging with silver or gold foiling technique
Matching the vintage pattern with a glossy coating
Apply soft and relaxing graphics in dim color to make a lovely visualization
Well, this design sounds interesting, isn''t it?
Match The Bright Colors with a Trendy Design for Your Hat Shipping Boxes
If you produce your hats for kids or teenagers, you need to make them look as trendy as you can. We know that these customers always want to look modern. Thus, when it comes to choosing the hats they want to purchase, they will surely look for the trendiest options.
You can try matching the bright colors with a trendy design to attract customers in this demographic.
For instance, you can try to mix and match:
The blue-colored packaging with modern visualization
The black colored packaging with images of your trendy hats
Apply matte or glossy coating
When you deliver your hats to customers by using these exceptional hat shipping boxes, they will not think twice about purchasing from your brand again. Even better, they will definitely recommend your brand to others. There you go! More sales to get!
Personalization Always Works in Grabbing More Customers
Adding a personal touch to your packaging boxes always works well in grabbing more customers. Today, you can find many wholesale hat boxes suppliers with a single click on the Internet. An experienced packaging company will help you personalize your boxes as how you want to present your products.
Your customers will love it when they receive your hats in the boxes that are exclusively designed for them. This means that you pay attention to their expectations and shopping experience. The good thing is that there are many ways you can personalize your boxes.
You can try some convincing personalization options such as:
Place a trendy tie around your product packaging
Add a lovely hangtag on the packaging with some lovely greetings
Slip in a handwritten with your customer''s name inside the product packaging
Give a discount for the next purchase, especially for specific customers
You can never go wrong in making your customers feel special. Instead, you can strengthen your customer base with these warm gestures. Yes, all you need to do is be more creative and make your customers happier!
Try Out Hat Boxes with Handles!
Customers want to feel comfortable when purchasing your products. How to do this? Well, it is not as difficult as you might think!
You can try out unique hat boxes with handles to give a high convenience when carrying your hats from your store. When you design these types of boxes, not only will you make them happier to purchase from you. Better than that, the exclusivity presented by the boxes will appeal to more prospects on the way. In the end, you can extend your brand''s reach easily and quickly!
Giveaways Are Always the Best Tricks to Grab Customer''s Attention!
Giving more than the money spent by your customers is the best way to drive their future purchases. Yes, we have to admit that giveaways are always the best tricks when it comes to grabbing customer''s attention. This marketing approach will eventually inspire customers to spread a buzz about your products and brand.
What types of giveaways can you provide to your beloved customers?
Small merchandise such as keychains or pins to thank them for purchasing your hats
Discount coupons to drive their future purchases
Samples of the new product lines you want to offer to the market
Without you realizing it, there are many ways you can do to make your customers happy with their purchases from you. When you can make them happy, making them your loyal customers will not be difficult. Yes, it is that simple!
Get Affordable Prices from a Reliable Hat Box Wholesaler
Last but not least, when getting the best boxes for your hats, you also need to consider the budget as well. To help you manage the production costs, try to get affordable prices from a reliable hat box wholesaler. By having a professional packaging partner, you will not only get top-notch quality boxes. Far better, you can also expect to get some offers such as:
Free shipping service to deliver your boxes to your doorstep
A low minimum order quantity to make it easier in placing your order
The best free design support from the packaging experts
After all, getting the most impeccable boxes while managing your spending budget is not a bad idea.
Wrapping Up
Indeed, your creativity in customizing your baseball cap packaging box can help you level up your business. Perhaps you have never thought about this before, but yes, it works! So, if you are interested in designing and customizing your box, you can always rely on the packaging designers at USboxprinter. By working with us, you can design the best box that will complement your exclusive hat products.
Have a nice day ahead!