Rigid Boxes The Market Trends That Make the Boxes More Popular
Published

By: John |

Published

On: 2022-02-22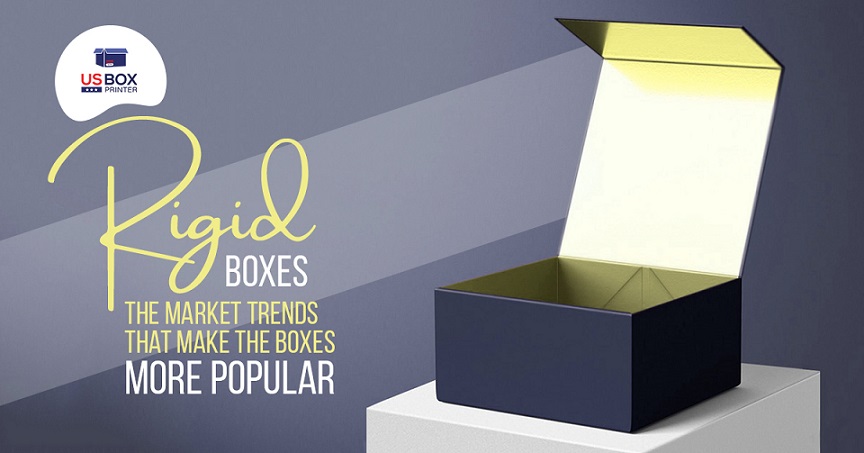 Rigid boxes have been famous and preferred in various industries for many years. The boxes are perfect to present any product by adding a touch of luxury. When it comes to winning the customers hearts, we know that they will take a look at your product packaging boxes before purchasing. In this specific scenario, you know that you need to make a difference. Accordingly, this is where custom rigid boxes can help you a lot. How? And why do these boxes come up to be more popular? What about the market trends in designing the boxes? Lets discuss it all here!
Rigid Boxes Act As a Medium for Storytelling
Each brand comes with a different story to tell to those customers. Eventually, the modern customers would love to know about the brand they ordered their products from. The more you expose your brand to them, the more they will be connected with your brand. This is exactly what makes
rigid boxes
still becoming trending until now. These appealing boxes can act as a perfect medium for storytelling. This market trend will still appear and even will be more implemented by many brands. The reason is obvious here. The rigid material is durable and appealing. This material will make your boxes look more lavish and of course, customers will perceive your products inside to be of high quality.
Luxury Rigid Boxes with Ornament Designs
For the last few years, ornament designs have become more famous in the packaging industry. This applies the same with
luxury rigid boxes
. Applying beautiful ornament designs to your boxes will make them look even more dazzling and exclusive. Many food and cosmetic brands have been implementing this trend. Thus, we can confidently say that this one will still be a trending topic for years to come. The trend includes polishing the boxes with silver or gold foiling. This way, you will be able to display your valuable products properly and make them look even more captivating.
Neutral Colours and Earth Tones Make Attractive Rigid Packaging Boxes
Rigid packaging boxes
are already lovely. Yes, we have to admit that the presentation offered by these boxes can amaze anyone who sees them. Hence, to drive more potential customers, you dont need to make the boxes overcrowded. Instead, why dont you try out the perfect combination of neutral colours and earth tones? Yes, this lovely combination will make your boxes look more attractive. Just imagine when customers are spoiled with colourful boxes with jam-packed designs. When do they see your elegant boxes come with soothingly neutral colours and earth tones, wouldnt they love to explore your products more?
Flat Illustrations Make Custom Printed Rigid Boxes Presentable
Those customers will always search for something new and unique. Yet, they would prefer to see relaxing designs that will not give them a headache or confusion. In this regard, never try to overwhelm the design of your
custom printed rigid boxes
. Instead, you can simply apply flat illustrations to make your boxes look presentable. These flat illustrations will deliver a more professional look to your products. By applying this trend, you can increase the volume of your sales while promoting your brand successfully.
Luxury Rigid Boxes with Unique Shapes
There are various shapes and styles for custom packaging boxes. To make your
luxury rigid boxes
more eye-catchy, you can apply a unique shape that will differentiate your products. As we can see, most boxes in the market are in square shape. Can you imagine what will happen if you come up with a unique shape? Well, this effort will surely attract those customers further. Some unique shapes you can choose for your rigid boxes are included:
Pillow boxes
Window boxes
Pyramid boxes
Hexagon boxes
Gable boxes
Sleeve boxes
Two-piece boxes
And more other options
You can design your boxes in the most exceptional shape by working with an expert packaging provider such as USboxprinter.com.
Balanced Layout Makes Rigid Boxes Wholesale More Evocative
Have you ever wondered what makes customers purchase your products? What about the new customers? What makes them try out your products? Well, the answers rely on your product packaging boxes. Customers always purchase products they need. Accordingly, they would check out the details about your products first when they see your boxes. Balanced layout makes
rigid boxes wholesale
more evocative. This simply means that you need to use a readable font style to provide any description on the boxes. With stylish font style, those customers will be happy to read all the descriptions you provide on the boxes. In the end, they will make their purchasing decisions easier.
Finishing Effects Make Rigid Packaging Boxes Perfect
The texture of rigid material is already amazing. Yet, it doesnt mean that you cannot do more to make your
rigid packaging boxes
perfect. Instead, there are various finishing options you can apply to the boxes. Many brands have been doing this and making the boxes turn those heads easily. What are the most popular finishing effects you can apply?
Spot UV
Glossy lamination
Matte coating
Gold or silver foiling
By applying a beautiful finishing effect to your boxes, you can make those customers fall in love with your products by only seeing the lovely appearance of your boxes.
Integrate High-Tech into Your Wholesale Rigid Boxes
We are living in the modern business world where every innovation comes at a rapid pace. This goes the same with the packaging industry and
wholesale rigid boxes
are no exception in this matter. To meet the market demand in this modern lifestyle, you could integrate high-tech into your boxes. The high-tech innovations we are talking about here are such as:
Website registration
Product information with URL
QR code to help customers know more about your products
By applying these innovations, you can grab more eyes of those modern customers. Obviously, modern customers love to get modern things. So, dont you think that it is a good idea to give customers what they want?
Unique Rigid Packaging Box Inspires Unboxing Videos
Yes, this trend will still appear for more years to come. We can see how YouTube has been spoiling us with many unboxing videos. Of course, customers would love to record their unboxing experience, IF they find the product packaging to be unique. You can make your
rigid packaging box
to be more unique by applying personalization features. For example, you can apply an exceptional hangtag with your customer''s name on it. This will surely inspire her or him to make a memorable unboxing video.
Sustainable Custom Rigid Boxes Will Stay as a Big Trend
Sustainability is not something new, even in the packaging industry. In fact, we can see how more brands are shifting to this trend by making their packaging boxes to be eco-friendly. Rigid is one of the packaging materials with an eco-friendly nature. Sustainable
custom rigid boxes
will remain a big and important trend for many brands to follow. Not only that those customers would love to get products that come with eco-friendly boxes. Additionally, when you use environmentally friendly boxes, those customers would perceive your brand as a trustworthy one.
Where to Get Trendy Rigid Boxes?
This is might be a big inquiry you have in your mind right now. Where to get the trendiest
wholesale rigid boxes
? How can you design them by following the market trends? This is where USboxprinter is here. You can always rely on us when it comes to designing your custom boxes by following the latest market trends. We have a qualified team of packaging professionals who are always up-to-date with the latest trends. You will get the chance to design your
rigid boxes
according to the market trends you want to follow. Most importantly, you will get the chance to design the boxes according to your needs and preferences. So, are you excited to design your custom packaging boxes? USboxprinter is your best choice to get impeccable boxes in a single click away!