Pillow Boxes with Window - Let Us Make Your Products More Visible!
Published

By: John |

Published

On: 2022-08-20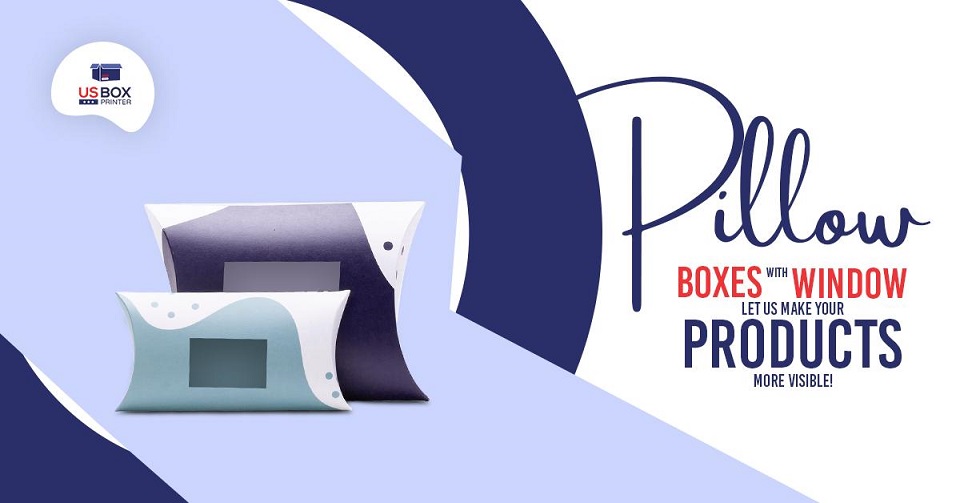 No matter which type of product you are selling, if no customer knows about your brand, you will not get good sales. Why? The reason is obvious; we all love to purchase products from familiar brands. Thus, even if you have products of excellent quality, if no one knows your brand, you can leave your dream to get good sales. So, the first thing you need to do to promote your brand is make your products more visible. You can do this easily by giving an impressive product display. Beautiful pillow boxes with window can help you a lot in this case! How?
A Brief Intro to Customized Pillow Boxes
Customized pillow boxes have turned out to become an ongoing trend in the packaging industry. Many brands from different industries have been using these uniquely designed boxes to present their products. These boxes come with an innovative layout that draws every single eye. How?
First, as the name suggests, these boxes resemble a pillow. By looking at the structure, you might think that these boxes will fit only specific products. But it is not true at all...
Instead, pillow boxes with window will be perfect for packing and presenting almost all types of products. Any product will look captivating in these boxes, from cosmetics to food items, medicines to jewelry items. In the ocean of products wrapped in standard boxes, these boxes will surely make your products pop up.
The Promising Benefits of Using Custom Printed Pillow Boxes
Undoubtedly, every single brand always wants to get the benefits of every single business activity. This applies no matter in which industry you are doing your business. When it comes to presenting your products appealingly, of course, you also want to get the benefits from it.
Well, the good news is that you can get various promising benefits from using custom printed pillow boxes. Yes, you will love how these boxes help your business strive and win the market without the hassle.
The Innovative Shape Provides Improved Product Safety
Of course, product safety should always be the main focus for every single brand. When you have durable boxes wrapping your exclusive products, you can be assured that they will be fully protected. Made of selected materials, large pillow boxes wholesale provide improved product safety.
These types of boxes will be perfect for protecting almost all products, including:
Bakery items
Cosmetic items
Toys
Hair extensions
Electronic products
And other products
In these boxes, you can confidently deliver your exceptional products and ensure they arrive at your customers safely and sound.
Appealing Pillow Pack Packaging Attracts Customers Easily
Speaking of attracting customers easily, nothing beats appealing pillow pack packaging. Indeed, this packaging comes with a stronger capacity to catch those eyes than standard packaging you can find.
Now we know that customers will be spoiled by thousands of products packed in their colorful boxes when they enter a retail store. So, how can your product captivate them in the first place?
By being different.
Yes, your product can only turn those heads to pay attention by being different. Eventually, by adding a lovely window shape to your product packaging, you are giving a memorable sneak peek to those customers. This way, you can grab more attention when they see your product through the window. Even better, they will build trust in your brand as you present the actual shape of your product. Thus, leaving them with no other options but to purchase your product.
Pillow Boxes with Window Make Your Products Pop Up in the Shipping Journey
Have you ever counted how many people will see your products during transit? Or you might think the shipping journey is just another routine to deliver your products to your beloved customers or retail stores.
Well, without you realizing it, you can eventually take advantage for promoting your products, even in a harsh shipping journey. How?
By using pillow boxes with window.
Now imagine if you deliver your products in fully-closed boxes. Obviously, no one will know what products you deliver inside the boxes. They will have to explore the boxes if they want to know about your products.
On the other hand, when you deliver your products in trendy boxes with window, everyone can see your products easily. Yes, the window shape on the boxes will make your products pop up in the shipping journey. When you can make them drawn with your products, it will be easier for you to promote your brand. You will find various ways to do this.
With the help of modern printing technologies, you can:
Apply your brand''s genuine design and theme to the boxes attractively
Choose the color combinations that match your brand''s color theme
Print relevant images and graphics related to your products
Print your branding elements such as brand slogan, logo, and even an exciting brand story
Yes, there are various ways you can make your products pop up and promote your brand during transit. When you can do this, you will grab more prospects and turn them into your potential customers.
Personalizing Your Pillow Box Packaging Helps to Make Your Customers Happier
Happy customers result in repeat sales. As a brand owner, you are surely aware of this fact. Many brands have been making their efforts to make their customers happy and love to purchase from them. Well, you can do this as well! When you can make your customers happy by purchasing from you, they will not consider recommending your products and brand twice.
The smartest and most effective way to do this is by personalizing your pillow box packaging. By delivering products that are made exceptionally for them, customers will see how you appreciate them sincerely. After all, it is not difficult to personalize your product packaging. All you need is to add a personal touch as a warm gesture to your product packaging.
How to do this?
Write A Special Note On the Inner Side of Your Packaging
Sincere notes such as "Thank you for shopping with us" Your shopping experience matter''s will spread a smile on your customer''s faces. The second they open your packaging box, they will see how you take great care of their shopping experience.
Place Beautiful Hang Tags with Customer''s Names
When customers receive your product in trendy pillow boxes with windows, they will be amazed by the layout of the boxes. Then, when they see beautiful hang tags with their names, they will be more than happy. It takes no hassle to make your customers happy and feel valued. Yet, the result you will get is tremendous.
Add-Ons Work Best to Captivate More Customers
Yes, applying add-ons will work best when it comes to captivating more customers. From an elegant tie to a fancy ribbon, you can make your customers smile when they receive your products in attractive customized pillow boxes.
Or else, you can also apply some wonderful finishing options to amaze their eyes, such as:
A lovely matte lamination
A shiny glossy coating
A luxurious silver or gold hot stamping
A bright UV Spot
No matter what type of finishing option and add-ons you choose, you can expect to see those customers loving your brand more. Why? Again, by delivering products that are made exceptionally for them, customers will see how you appreciate them sincerely.
Wrapping Up
Beautiful pillow boxes with window provide an impressive display to make your products more visible. By designing and customizing them properly, these boxes can help you level up your business. Yet, when it comes to designing the boxes appealingly, you should work with experts. Well, the packaging professionals at USBoxprinter are ready to assist you in all the designing stages.