Packaging Ideas to Win the Market with Pink Shipping Boxes
Published

By: John |

Published

On: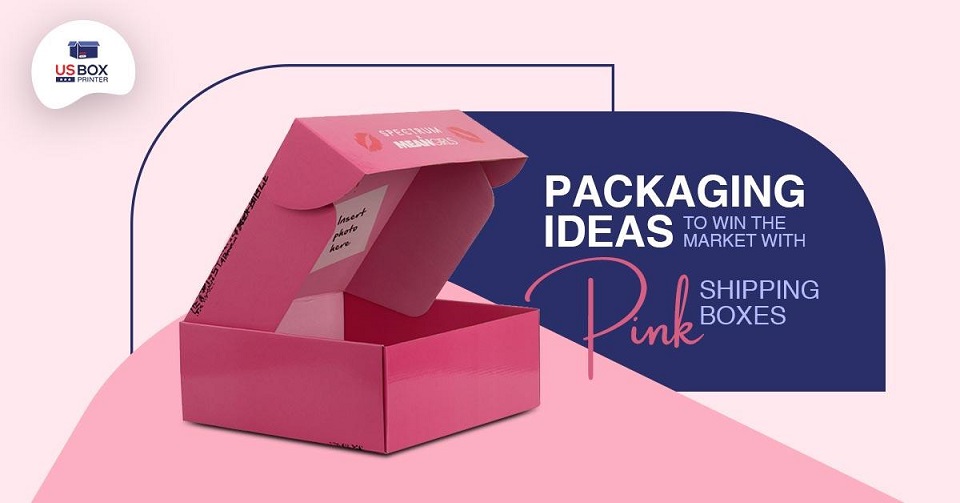 Delivering your products to customers is not an easy task at all. No, we can never say that it will be easy. The hustle to pack your products to attract customers, the concerns you have regarding product safety, notwithstanding the goal to make your brand visible. All these factors require you to be smart with your marketing strategy. Pink shipping boxes can make the work done easily for you. These boxes can eventually do more wonders than standard boxes can do. So, are you ready to win the market with these appealing boxes? Below are some packaging ideas to design the boxes that draw attention!
Why Choose Pink Boxes for Shipping?
Of course, this question might come to your mind right now. Yes, why does your business need to choose pink boxes for shipping? Aren''t they just the same boxes as other standard boxes used for shipping products? What''s the difference? After all, customers will not use the boxes again after getting your products, right? Not exactly...
Let''s dive in.
Pink Packaging Boxes Are Highly Customizable
Customization has revolutionized the packaging world. Various brands from different industries today customize their boxes to differentiate their products. Pink packaging boxes are highly customizable. Yes, this means that you can design and customize the boxes according to your creativity.
Everything from the boxes is flexible to customize, including:
The packaging design – Make it more attractive with your brand''s theme
The packaging style – Choose your favorite style or make your own style
The shape – Decide the shape according to your product needs
The size – Measure the exact size of these boxes to protect your products inside further
The color – Apply vibrant color combinations that match your brand logo
Pink Boxes for Packaging Look More Beautiful in Customer''s Eyes
The pink color doesn''t mean that the product inside is made for women. Instead, pink boxes for packaging will look more beautiful in customer''s eyes. Why? Because the pink color reflects a warm feeling and calms the eyes. Thus, when customers receive your products in such boxes that catch their eyes, they will fall in love with your brand from first sight.
Pink Mailer Boxes Are Budget-Friendly
Every product that you can customize will be budget-friendly. How?
Well, let''s make it clear here.
The case applies the same to pink mailer boxes. As we mentioned above, these boxes are highly customizable for any type of product. When you customize a product, you will decide the size, the design, and every single inch of that product.
You can take advantage of this feature by:
Choosing and using the right packaging material according to your budget
Applying customization options that will not exceed your budget
Order the boxes in bulk to get a lower price
Work with a supplier that offers free shipping service
At the end of the day, you will find that pink shipping boxes are worth having!
Let''s Design Pink Box Packaging to Win the Market!
Without any doubt, having appealing boxes delivering your exclusive products is your responsibility IF you want to win the market. Additionally, you are aware that these boxes offer various benefits for your business to grab.
So, how about designing pink box packaging with creative packaging ideas below?
Make The Boxes Your Brand Ambassadors
To easily win the customers in the market, first, you need to make your products and brand more visible. To do this easier, you can make the boxes your brand ambassadors. How to do this?
By adding your branding elements to the design of your hot pink shipping boxes.
What can you do with the packaging design?
Apply your authentic and genuine brand''s theme
Match the color of your packaging with the color of your brand logo
Write down your slogan, and a bit of brand story will excite customers
Using the embossing or debossing technique will make your logo more visible
A Simple Design Works Perfectly for All Products
We know that there are thousands of products offered in the market. Each comes with its product packaging. Some products come in colorful boxes, while some might come in unappealing boxes. At this point, we can see how challenging it is for customers to choose even a single product.
You can go with a simple yet exceptional design to make a difference. A simple look can eventually differentiate your product and highlight your brand at the same time. Some brands make design their packaging boxes in colorful boxes and a crowded design. In this scenario, you can appeal to them with simple yet trendy pink shipping boxes. Better yet, you can make the boxes look lovelier with wonderful add-ons. For instance, you can:
Combine a warm pink color with a simple flower image
Apply classic font style to make an elegant look
Consider coating options such as gold or silver foiling to make your boxes look dazzling
Focus On Meeting Your Customer''s Expectations
Customers purchase a product because they need it, and it meets their expectations. To grab their hearts, you should focus on meeting their expectations. Remember that some customers can be very loyal to a specific brand. Why? Because they find the brand can meet their expectations. If you wish to meet your customers' expectations, you need to find out what they are looking for from your products.
Most importantly, you should know more about your target customers. We know that customers'' expectations vary from teenagers to older customers. For example, those teenagers will love seeing bright-colored packaging that draws their eyes. Meanwhile, older customers such as business people will love to see the packaging design that calms their eyes. So, you need to be creative and design your boxes accordingly.
The Product Description Is a MUST!
No matter what product you send with pink box packaging, you need to provide detailed product descriptions. Why? Because the details of your product will make it easier for customers to use your product. Moreover, by providing the details on your packaging, you can drive them to know more about your brand.
In addition, when you provide the details about your product, you can help customers make better purchasing decisions. For example, if you provide the calories and nutritional information about your food item on the packaging, they will know what your item is offering. The more they know about your product, the easier for them to make their purchasing decisions.
Better yet, the details of your brand will drive them to explore more about your business. So, don''t you think that it is worth considering?
The Quality of Your Product Is Important
Even if you have the most appealing pink boxes for shipping, without excellent product quality, customers will still get disappointed. This is why you should never ignore preserving your product quality.
Make sure you choose durable packaging material that will secure your products even in a harsh shipping journey. To do this, you should ensure that your packaging material will be of the finest quality. In fact, you should never compromise when it comes to securing your product during the shipping journey. After all, product return will leave nothing but a bad image for your brand.
Final Ideas
If we are talking about the right boxes for shipping your products, you will need to consider many considerations. Exclusively designed pink shipping boxes are the ideal tool to help you win the market easier. So, if you are ready to make milestones in the market, you can rely on USBoxPrinter to get these appealing boxes!