Lets Design Crepe Cone Packaging That Makes More Sales
Published

By: John |

Published

On: 2022-10-11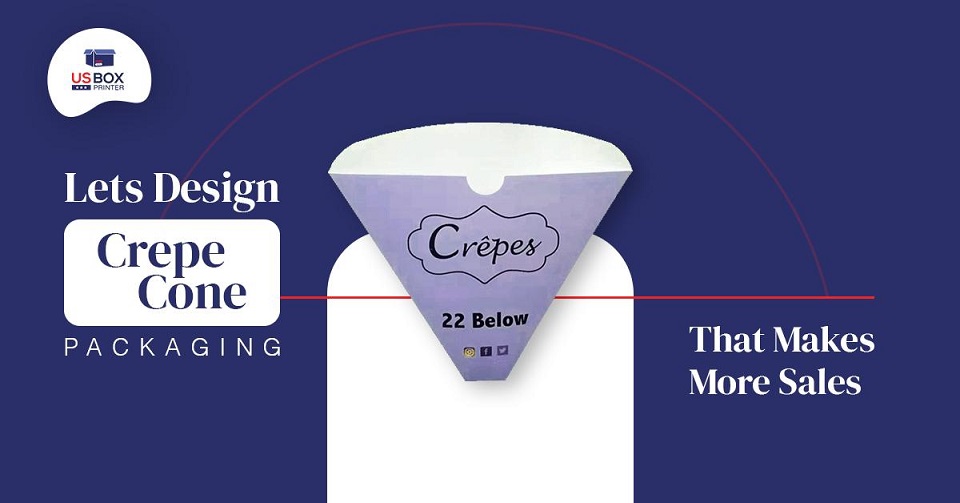 Who would not get enticed to have a bite of delicious crepes? Even though crepe was initially introduced in France, this dessert is popular in many other countries today. The crunchiness, along with the sweet topping, make people love to include crepes in parties and occasions these days. If you are a brand offering crepes and want to make more sales in this crowded market, you will need attractive crepe cone packaging. But wait, how about designing it with your own ideas and brand concepts? Read this post completely!
Why Do You Need to Design Your Own Crepe Packaging?
Are you still using standard, dull packaging to wrap your delicious crepes? So, now you must be wondering why you need to design your crepe packaging with your creative concepts.
For every single product available in the market, those customers will always judge its appearance before they decide to purchase. This applies more to sweet treats such as crepes. Thus, if you wish to make more sales, ensuring the appearance of your packaging is highly important. This is the main point of designing your bespoke packaging to present your delicious crepes.
Simply put, your product packaging is the main factor in delivering your first impression. In addition, your packaging will influence how you can attract new customers while retaining loyal ones. Most importantly, the impression your packaging offers drives customers to purchase your product more.
Yet, there are more reasons to design the packaging by yourself. Let''s explore more then!
1.      Your Authentic Design On Paper Crepe Holders Catches More Eyes
It is no denying that the first thing customers see when they purchase your tasty crepes is how well you pack them. For this reason, having durable and attractive paper crepe holders presenting your sweets can ultimately make a huge impact on customer''s perceptions. Additionally, printing your packaging with a stunning brand logo and lovely patterns will help you catch more eyes.
2.      Appealing Crepe Cone Helps You Provide a Better Customer Experience
Even after they purchase your crepe, your customers will still use the crepe cone to enjoy it. At this point, they will surely admire your brand if your design is visually appealing, informative, and compelling.
On the other hand, if you pack your delicate crepe in a messy cone, customers will not consider purchasing it. In short, we can fairly say that your packaging helps a lot in providing a better experience for customers. Thus, this is something your brand should never ignore.
3.      Designing Your Own Packaging for Crepe Increases Product Preservation
Last but not least, designing your own packaging for crepe will enable you to increase product preservation. How can this be?
Now if you will choose standard, ready-made packaging, you might find it difficult to fit your crepe inside it. Perhaps the packaging is too small, or maybe it is too big for your sweet crepe.
On the other hand, if you design your own packaging, you can measure the size and dimension that will perfectly fit your crepe. This way, your crepe will be far away from any potential of slipping out of the packaging that is too big.
In the end, having accurate packaging will eventually make it more convenient for customers to hold your crepes and bring them along.
Let''s Design a Crepe Box That Sells More!
The moment you decide to spend time designing your box, you are already one step away from making good sales. Designing a presentable crepe box can be pretty fun and exciting. Not only will you get the chance to express your creative ideas and brand concepts. Far better, you will eventually feel proud when you present your crepes to the market customers. Check out the tips and tricks below to make everything easier for you!
Decide How You Will Sell Your Crepes
Before designing your own cone sleeves, you need to decide how you will sell your crepes. Why?
Because there are different concepts to match your packaging needs.
Here are some important points you need to consider in this regard!
If you sell your crepes in your own sweet shop, you need to make the packaging as attractive as you can
For online orders, you should make your packaging to be highly durable in shipping
To distribute your crepes to other stores, you need to make your packaging easy to handle
Once you understand where and how you will sell your sweet crepes, you can then design the packaging accordingly.
Apply the Color to Cone Packaging That Reflects Your Crepes' Taste
Color can really influence people to like and purchase any product. Well, believe it or not, this applies even further when it comes to purchasing bakery items or sweet treats such as crepes. To make your sweets look more enticing, you can apply the right color, such as:
Brown chocolate color to reflect the chocolate topping
The white color reflects the vanilla flavor and topping
Pink color packaging for strawberry crepes
The green color is perfect if you add mint to your toping
Or else, you can also make your cone packaging look more fabulous by applying the color of your brand. This will drive more customers easily as they see your crepes are delightful. Another benefit you will get from applying the right color is that you can bring your brand name to the market.
Play with Seasonal Themes for Your French Fries Paper Cones
Customers love to purchase products that match any special event, occasion, or season. Why wouldn''t you take advantage of this behavior?
Yes, you can take advantage by designing your French fries paper cones that meet their expectations. How?
By playing with seasonal themes when designing your packaging.
Believe it or not, there are many ideas you can explore.
For instance, you can try out applying for the following:
A perfect combination of red, green, and white colors to celebrate the Christmas season
A lovely red color to make Valentine''s Day more memorable for customers
Pure white color with gold foiling is perfect for a Thanksgiving Day
To make your cones even more attractive, you can add more decorative elements that match the theme. For example, you can draw reindeer or snowflakes for Christmas theme cones. Or else, beautiful heart shapes will make your crepe cone packaging look lovelier.
Use Taglines or Catchy Phrases to Spice Up Your Cardboard Cones Bulk
People enjoy having crepes with their friends, families, and beloved ones. They wish to make an unforgettable moment when having these desserts. If you make your cardboard cones bulk look more enchanting for them, you can deliver a better experience. Now, what comes across your mind when you purchase a crepe and find its packaging with wonderful taglines or phrases on it?
You can consider adding taglines or catchy phrases to make those customers explore your crepes more.
Check out the examples below to inspire you!
A warm "Merry Christmas" greeting will make customers happy to purchase your crepes
Phrases such as "Sweet crepe for the sweetest person" will bring smiles to customers
Try out writing "Made with love" to drive customers to purchase your crepes and give them to their beloved ones
Simply printing the words such as "Enjoy this beautiful day" will make your crepes look more delight
Remember that you need to write the phrases on your cones with stylish and readable font styles. Plus, you should not make your design overcrowded if you want to provide charming phrases on your packaging. With this type of packaging wrapping your delicious crepes, those customers will feel excited every time they purchase from you.
Final Ideas
Designing your own crepe cone packaging is the smartest and most efficient way for you to make more sales. Considering how you can proudly present your crepes with your exclusively designed packaging, you know it is worth it! To start designing attractive packaging for your crepes, you can contact USboxprinter today!