Innovative Packaging Ideas to Design Your Mini Burger Boxes
Published

By: |

Published

On: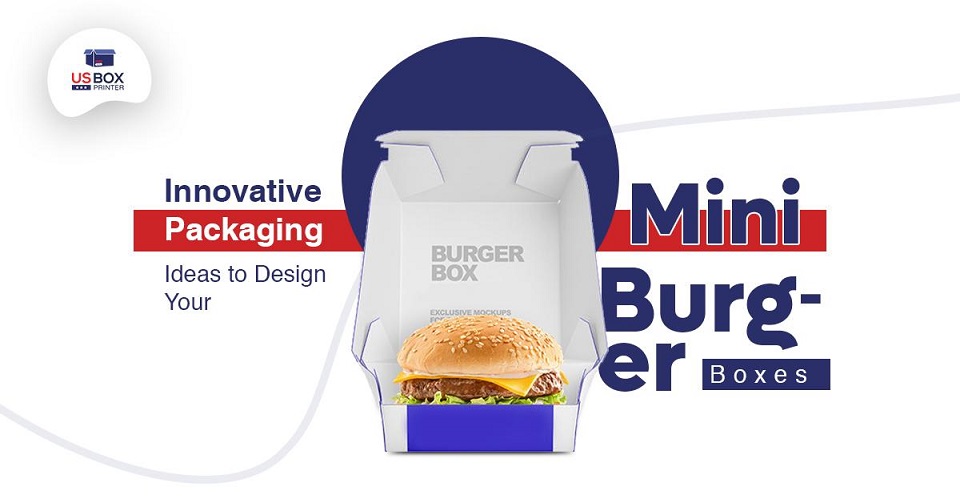 We all have been through there. Having trouble deciding what to make for dinner and craving that delicious burger. As a brand owner, you might have been wondering how to get the perfect packaging inspiration for your fast food items. Having the right mini burger boxes can help consumers make their choices. Additionally, you can deliver your brand message through the boxes. How? By designing the boxes with innovative packaging ideas below!
The Importance of Having Exquisite Custom Burger Boxes
The right packaging boxes are the most important part of food. You know that your packaging boxes are the first thing your customers will see when purchasing your food items. Those customers expect to see stylish boxes that catch their eyes.
There are different types of custom burger boxes for different products. For example:
Beautiful boxes with an eye-catching design will make your burgers stand out from others in the market
You can also design exciting boxes for birthdays or special occasions
Durable boxes will be perfect for delivering your delicious burgers to customers
Printed brand name and logo make the boxes to be presentable
Today, you will find many suppliers specializing in packaging boxes for all food items. At the end of the day, you will see how customization options let you choose the one that fits your exact needs!
How to Design Your Burger Boxes with Your Creative Packaging Ideas?
If you want to get more customers interested, it will be worth trying out innovative packaging ideas to design your burger boxes with your creativity!
Beautiful and Creative Design Boxes of Burgers
Beautiful and creative design boxes of burgers can be a great way to grab your customers'' attention. These boxes will also be a fun and artistic way to express yourself. What do you have to do when designing to get people talking about your burgers?
Use the Color Combinations That Pop
Don''t be afraid to play with your color combinations! You can try out using bright colors that will make your burgers stand out in customer''s eyes. In addition, you can also use patterns and textures to make your boxes look trendier.
Get Creative with the Box Shapes
Well, there is no limit to shaping creativity in designing your mini burger boxes. For example, you can try making your boxes look like a hamburger or fries to fit your restaurant''s theme. So go as wild as you want!
Thinking Outside the Bun Will Be Fun!
If you want to use plain white cardboard burger boxes, don''t be afraid to go outside the lines when it comes time to decorate your boxes! For example, you can:
Paint on top or around the edges of the boxes with different colors and patterns
Add glitter glue to create an extra sparkle effect from your boxes
Apply matte or coating option to make your boxes more dazzling
Cute Add-Ons Will Make Your Boxes More Captivating
If you want everyone who sees your menu item to order one, put in some cute add-ons like stickers or little figurines. Make sure the add-ons will be related to what you are selling inside your burgers (like fries, pickles, and more).
High-End Burger Packaging Boxes Help You Deliver Your Burgers with Pride
High-end burger packaging boxes are made of high-quality packaging material. Thus, they will make a great choice for delivering your burgers with pride. The best thing about custom boxes is you can make them to be extremely robust and flexible.
This way, you can protect your burgers securely inside the boxes. For the material option, corrugated construction allows for easy stacking. This makes your boxes ideal for delivering your delicious burgers over long distances.
Create Simple and Stylish Mini Burger Boxes
With so many brands offering their burgers, it can be difficult for customers to decide which one is right for them. This applies especially if they are celebrating a special occasion. Simple and stylish mini burger boxes will be ideal for helping your customers give their friends and family something they will never forget.
Try Out Fancy Wrappers
You will not have to spend a fortune on fancy wrappers to make a good impression. These adorable wrappers are available in various shapes and sizes you can choose from. Another great thing is that they come in various colors and patterns. By wrapping your tasty burgers with these wrappers, you add flair to your burgers. At the same time, you are protecting your delicious burgers from damage during a harsh shipping journey.
Eco-Friendly Custom Burger Boxes Are Your Best Way to Success
Many food brands today love to apply creative packaging design ideas. These ideas will differentiate themselves from other market competitors. These designs often use bright colors and detailed graphics to grab the customer''s attention.
Today, the world has become more aware of the environmental impact of packaging. This has inspired many companies to look for the best ways to reduce the use of non-recyclable materials. One solution is eco-friendly custom burger boxes. The boxes come with many beneficial advantages over traditional packaging methods. What are they?
Help you improve Sustainability
Eco-friendly recyclable packaging boxes will help your company reduce packaging waste. After all, we know that compliance with environmental laws requires your food brand to reduce its carbon footprint.
Consumers tend to gravitate toward brands that focus on nature. Consumers believe these environmentally conscious brands care about saving the world around them. Thus, wrapping your delicious burgers in eco-friendly packaging boxes will surely work well.
To be noted, the cost of recycled materials will be lower than traditional packaging materials. In addition, fewer energy resources will be required during the production process. Plus, you will find no additional additives such as dyes or coatings required.
Can We Make Eco-Friendly Burger Boxes Look More Attractive?
The fact is, every single brand wants its products to stand out. So the question is, can we make eco-friendly burger boxes look more attractive? After all, consumers will always search for attractiveness when deciding to be loyal to any brand.
Well, the good thing is, you can make these environmentally boxes to look more attractive and appeal to more customers! How?
Colorful boxes can help a lot in grabbing maximum attention. Eventually, these dazzling boxes will make a huge difference from other types of packaging in the market.
Apply lively promotional Graphics
Lively and promotional graphics such as your brand logo and slogans will help increase brand awareness among your target consumers.
Innovative shapes can make your boxes more eye-catching than traditional shapes. When designing your boxes, you can try out a two-piece box, drawer box, and other innovative shapes.
Try Out Sustainable Plastic-Free Packaging
We can see today how many brands have been switching to use sustainable packaging materials. Well, the truth is, designing your product packaging is not only about providing a visual look to customers. More than that, considering using plastic-free packaging will lead your food brand to a sustainable path.
By considering this for your boxes of burgers, you can match the lifestyle of those modern consumers. For example, compostable packaging boxes can be a great way to show how being environmentally friendly does not mean sacrificing your brand''s aesthetics identity.
Choose and Use an Eye-Catching Font Style
Believe it or not, you might only need a unique brand statement with an eye-catching font style to grab maximum attention and tell your brand story. Even more, using an eye-catching typography can help you create a unique visual identity for your brand. You can do this by keeping your font style to be simple with bold fonts.
Check Out Bold and Frenzy Patterns
Bold and frenzy patterns can really grab customers'' attention within seconds. But what makes these types of patterns are interesting? Because you can twist the elements of these patterns to define your brand''s unique identity. Better than that, you will get the chance to create a design that catches more eyes.
Wrapping Up
When you innovatively design your mini burger boxes, no customer will ever resist your burgers. As a result, you know that you can expect to get higher amount of sales. So, if you are ready to sell more of your delicious burgers, the packaging experts at USBoxPrinter are ready to assist you!