How to Make More Sales with Successful Soap Packaging Ideas?
Published

By: John |

Published

On: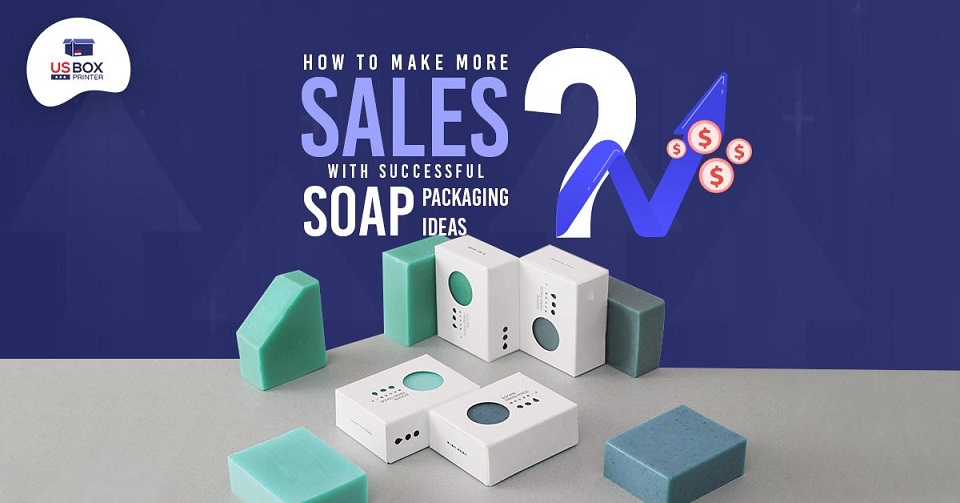 Soaps are varied, from liquid to bars. People purchase soaps by seeing the ingredients you used to produce your soaps. However, before they take a look at all the ingredients you write on your packaging, they will first judge the appearance of your packaging itself. Well, this is only one of the reasons why you need to pay attention to successful soap packaging ideas. So, let''s know why and how to make more sales with your product packaging!
Why Do You Need Creative Soap Packaging Ideas?
The soap industry is crowded yet profitable. The profitability offered by this industry drives many new brands to keep coming to participate in the competition. This, of course, gives challenges to other existing soap brands in the market. But don''t worry; it doesn''t mean that you cannot face the challenges either.
To strive and eventually win the market, you need creative soap packaging ideas. Why?
The main reason is quite obvious here; people are bored with soaps that come in standard packaging boxes. Thus, you will not be able to grab their interest if you are doing the same with your packaging. Instead, when you design your packaging with your creative ideas, you can grab tremendous benefits. What are they?
Applying your creativity makes your product packaging unique from others
The more creative your design is, the more attractive your product packaging will be in customer''s eyes
Unique soap packaging with your branding theme enables you to expose your business further
When you apply your own ideas to design the packaging of your soaps, you will get the chance to expose your soap business wider. In addition, this marketing effort will also allow you to open up the opportunity to grab more sales easily.
Create Unique Packaging with the Best Soap Packaging Ideas!
You are already on the right path when you are interested in designing your packaging with the best soap packaging ideas. By paying more attention to your product packaging, you are just a step away from reaching success. So, are you ready to make more sales of your soaps and lead your brand to success? If you are, then you will love some creative packaging ideas below!
Eco-Friendly Soap Packaging Ideas Are the Best Branding Approach
When it comes to highlighting your soap brand in the market, eco-friendly soap packaging ideas are your best option. Why?
First of all, we know how modern customers today pay more attention to every single environmental issue. Secondly, some people will not hesitate to pay more for eco-friendly products. Lastly, soaps are natural items in which the ingredients are from nature. Thus, designing eco-friendly product packaging for your lovely soaps will be the best branding and marketing approach.
For this, you can try out the following steps!
Use eco-friendly and recyclable packaging materials such as paperboard or kraft to create your product packaging
Apply green printing to your product packaging, such as using friendly raised ink that will not harm the environment
Measure the exact amount of packaging material you need to reduce the packaging waste
By having eco-friendly packaging wrapping your lovely soaps, you are making it easier for your lovely soaps to make big sales.
Choose and Use Unique Soap Packaging Designs
We all love to see something unique and different. This applies to the same when purchasing soaps. Even if we use soaps daily, we will still choose the soaps wrapped in lovely designs over those that are average. In this context, as a brand owner, you need to choose and use unique soap packaging designs.
This means that you should think out of the box when designing your product packaging. Now we know that most soaps are packed in square packaging. Well, you can make your soaps look unique by packing them in different shapes of packaging.
For instance, you can choose:
Pillow shape packaging
Drawer packaging style
Heart shape packaging
Pyramid shape packaging
Two-piece packaging style
And other shapes that will make your soap look unique
Being different when presenting your soaps will help you turn those eyes easily. This way, you don''t need to wait long to earn more sales.
Consider Homemade Soap Packaging Ideas
Without you realizing it, there are various modifications you can get from homemade soap packaging ideas. Yes, you don''t need to break the bank to design unique product packaging for your soaps.
For example, you can try out applying the designs such as:
Use the kraft packaging material to show off the natural feature of your soaps
Apply the matte lamination to represent your soaps in a decent look
Wrap your beautiful soaps with tissue paper before placing them in the packaging
The unique ideas above can make those eyes pay more attention to your soaps. Your soaps will draw more eyes even if thousands of other soap brands are available on the shelves.
Apply an Innovative Printing Style for Cardboard Soap Packaging
Without any doubt, printing is one of the important stages of designing cardboard soap packaging. If you don''t print it, your product packaging will end up looking dull and boring. If this happens, you can leave your dreams to grab more sales from your lovely soaps.
An innovative printing style is the best thing you can do to make your soap products more visible. Thanks to the inventions of digital and offset printing techniques, you can now print your packaging for soap bars according to your needs.
Yes, from the product details to images, the graphics to branding elements, you can print them all. This way, you can make your packaging evocative and attractive at the same time. As a result, no customer will be able to resist the beauty of your soaps. More sales to expect here!
Wrapping Up
Applying successful soap packaging ideas will make your lovely soaps look more beautiful in customer''s eyes. Accordingly, when you can convince them with the appearance of your soaps, earning more sales is just a piece of cake. So, are you interested in earning more sales through your product packaging? If you are, you can design unique packaging by working with the experts at USboxprinter!
Read Also: Luxury Candle Packaging Ideas - Sell More with Your Packaging!