Homemade Cookies Packaging Ideas Lets Design Your Packaging!
Published

By: John |

Published

On: 2022-05-09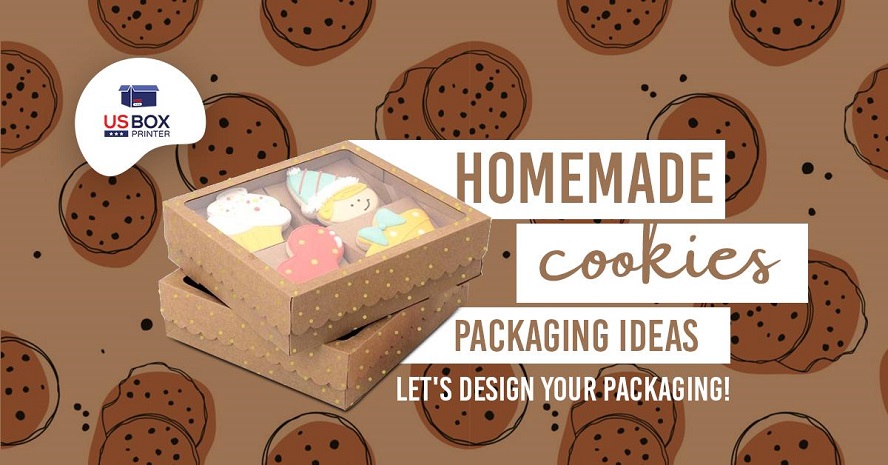 No single cookie in the market is sold without product packaging, whether homemade or factory-made. If there is, maybe not all customers will pay attention. When it comes to selling your cookies, you need creative homemade cookie packaging ideas. Why? And how your cookies boxes should be? Let''s design your packaging!
Why Do You Need Cookie Box Packaging Ideas?
Hmm ... cookies! Who doesn''t like to have a bite (or maybe two) of these heavenly treats? Cookies are definitely loved by people of all ages around the world. From the delectable aromas to sweet tastes, these treats are just amazing.
Cookies can never be separated from cookie box packaging ideas. Why? Some reasons for that, let''s check out the most promising ones!
Product packaging protects cookies from dust, heat, and other environmental effects
Product packaging makes your cookie look more appetizing
Product packaging shows the brand behind the delicious treats
Product packaging helps deliver your cookie from one place to another
Product packaging acts as a promotional advertisement
Product packaging drives customers to make purchases
After all, cookies are sensitive and delicate. Therefore, these delightful items deserve a defensive yet attractive product packaging.
What Should the Packaging for Your Cookies Be?
It is undeniable that your product packaging will be an important part of your branding. How? Because your product packaging is not only designed to carry your unique brand theme. More than that, this packaging is the one that allows you to deliver your cookies safely. Most importantly, your product packaging will be the one that impresses the market customers. Cute cookie packaging ideas will be part of your product''s shopping experience.
When it comes to speaking about homemade cookies packaging ideas, your product packaging should be:
Attractive
Easy to use
Promote your brand
Deliver an excellent first impression
The fact is, one of the most important focal points for any brand is to get the attention of their potential customers. This might seem like a rewarding effort, but believe me, the small things can really make a big difference. Product packaging, in this context, helps you effectively gain a competitive advantage. This packaging will give your customers good insights into what your brand is. In addition, product packaging is what makes you different from other cookie brands.
Creative Cookie Packaging Ideas for Bake Sale
The creative design of your product packaging is highly essential for many cookie brands. Customization options make it easy for you to customize your packaging creatively. Various types of customizations are available for you to design your product packaging.
Investing in cookie packaging ideas for bake sale from USboxprinter and incorporating them into your branding strategy will definitely pay off. So, if you are a bakery owner and are looking for the most effective way to increase your sales, let''s start designing your packaging!
Apply your branding theme to your product packaging
You will find many themes to use for your product packaging. However, you will need to ensure that the theme you choose is best suited for cookies. Better yet, you need to associate this = theme with your brand logo.
What''s more, it is also a great idea to associate the theme with the color of your cookies inside. Or else, you can also try out applying the new gradient scheme trend for cookie boxes. By doing this, you will eventually become a change maker. 
Establish the connection between packaging and your items
Now let''s talk about the best cookie dough packaging ideas. Your product packaging should stand out from many others, no matter how. Why? Because this is the best media to drive customers to purchase cookies from you. By connecting your product packaging with the cookies inside, you will get the chance to leave a lasting impression on your customers.
You can apply various types of graphics, colors, images, and so on to support this purpose. In the end, you can increase customer interest in your cookies by associating connecting your product packaging with your items.
Give promotional offers
Many cookie brands come up with different tricks to reach more customers and increase product sales. One of the best approaches is to give away some promotional offers for your beloved customers. They will love your offers and will build a strong connection with your brand.
This marketing activity can draw the attention of other potential prospects that see your cookie boxes in the hands of existing customers. In this way, you can also retain existing customers. Because of this, they will find their loyalty rewarded.
Without any doubt, this will be one of the exciting ways to appeal to your food packaging boxes to your customers. This way, you can earn more profits by selling more cookies with attractive product packaging.
Link your product packaging with your brand
Are you still not aware of how important branding is to your cookie brand? The packaging for your cookies is the one that will help increase the value of your brand in the market.
However, many bakery brands do not pay attention to their custom packaging boxes. Well, you can easily enjoy the benefits of branding by linking your product packaging with your brand. All you have to do is make sure the theme is related to the color of your cookies inside.
You can use images and short texts in innovative ways to educate customers about your cookie brand. The use of cookie images is also beneficial in this regard. This effort can really impress those customers who want to buy exclusive cookie items. Or else, why don''t you turn your product packaging into interesting brand stories?
Drive more customers with small gifts and personalized notes
Without any doubt, if you wish to win customer loyalty, you need to connect with them. You can delight your beloved customers by adding small gifts such as truffles to your product packaging. One of the smartest homemade cookies packaging ideas is to print a thank-you note and slip it into your packaging.
Yes, small gestures are important. Therefore, using cookie boxes from USboxprinter can significantly help you improve sales and customer retention.
Read Also:Luxury Candle Packaging Ideas - Sell More with Your Packaging!