Gift Boxes for Coffee Mugs - The Perfect Boxes to Boost Your Sales!
Published

By: John |

Published

On: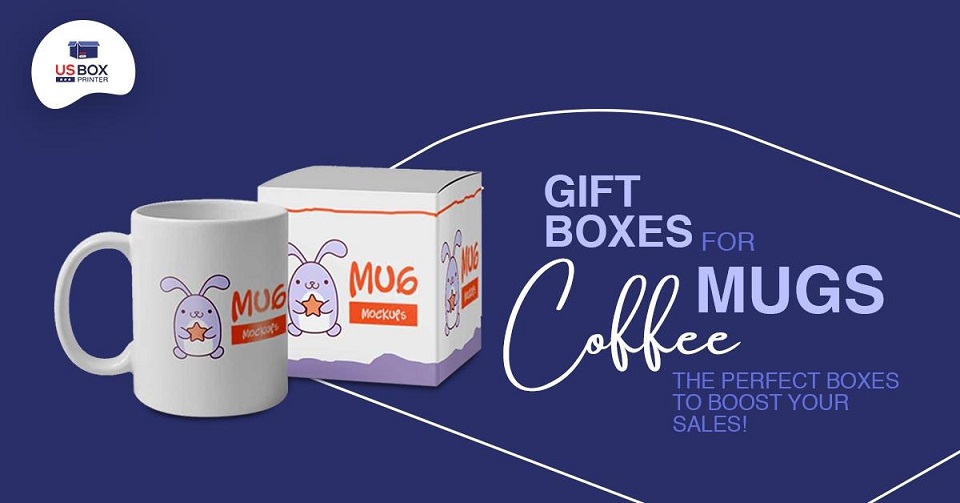 Uniquely designed gift boxes for coffee mugs are impactful, durable, and can tell a brand story from the outside. Come with an appealing layout, these well-designed boxes can help a lot when it comes to attracting new customers. At the same time, your authentic brand''s theme on the boxes will maintain your loyal customers. Don''t forget that these amazing boxes provide a better customer experience that will help you boost your sales. Here, we will take a closer look at how these excellent boxes help you boost sales and grab customers in seconds.
How Do Coffee Mug Gift Boxes Help You Draw Attention?
You will find coffee mug gift boxes are available in different materials such as paperboard, kraft, cardboard, rigid, and corrugated. These boxes are flexible for high-tech equipment, surface treatments, and finishing options. Therefore, there are many reasons why your brand can successfully draw attention with these boxes.
Mug Gift Boxes Wholesale Help Customers Celebrate Special Events
As the seasons change, there are always special events all year round for market shoppers to get some gifts for their loved ones in their lives. Whether it''s a simple holiday, Valentine''s Day, Christmas, New Year, or other memorable events.
Custom packaging offers many brands a unique opportunity like never before. For example, you can design and personalize mug gift boxes wholesale to present your products on Valentine''s Day. Beautiful gift boxed products definitely get a lot of attention. Additionally, the products will grab maximum attention in retail and online stores. By packing your coffee mugs in gift-like boxes, you help customers to celebrate their special events without having to pack their gifts. Thus, you can expect to get more sales as more customers will not think twice about purchasing your products.
Unique Mug Box Packaging Helps You Deliver an Excellent First Impression
According to a survey, about 40% of customers surveyed say they are more likely to buy again if the product they purchased is packaged in a "gift or luxury packaging." Why?
Yes, the first impression matters a lot, no matter what product you want to sell to the market! This is exactly where you need unique mug box packaging to add some brilliance to your brand. We can say that your packaging acts more than just being product packaging. Designing your product packaging with creativity will make your business look more credible in customer''s eyes.
In addition, this amazing packaging will deliver an excellent product presentation. Better yet, the quality of customer experience will be improved when using this packaging.
Customizable Cardboard Boxes for Mugs Provides an Unforgettable Customer Experience
Customer satisfaction is one of the most important parts in building a strong relationship with your customers. In this context, customizable cardboard boxes for mugs will be the most effective way to improve customer experience. Whether you run a gift shop or sell your coffee mugs at a retail store, you know that packaging boxes are important.
Custom boxes come with the ability to help you make a positive impact. According to another study, branded packaging boxes have the capacity to:
Make your brand image look more stylish and reliable
Add an extra value to the product inside
Make customers excited when they see the boxes
The Benefits of Using Gift Boxes for Coffee Mugs
At the end of the day, product packaging will simply be being packaging, right? Well, not really! When you use the right packaging to pack and present your product, you will get better results than using standard packaging.
When it comes to selling your coffee mugs, you know it will not be easy as many competitors will come as your hassles. Yet, the case will be different when you use lovely gift boxes for coffee mugs. In fact, these boxes provide your brand with various promising benefits.
Eye-Catchy Coffee Mug Boxes Drive Customers'' Purchasing Decisions
Another wonderful feature of coffee mug boxes is how these boxes facilitate the shopping experience for your target customers. As you know, modern customers are content with their choices, whether they shop in-store or online. This makes their purchasing decisions difficult. Yet, eye-catchy boxes will drive their purchasing decisions.
Gift Boxes for Coffee Mugs Expand Word-of-Mouth Marketing Strategy
Approximately 50% of customers agree that gift-like packaging will definitely increase their chances of recommending a product to family and friends. Captivating gift boxes for coffee mugs will encourage people to take a selfie with your boxes and post it on their social media accounts. There you go! You are expanding your word-of-mouth marketing strategy without even realizing it.
Turn Your Coffee Mugs into Lovely Gifts
The best thing about mug gift boxes wholesale is that you can use them to make your products as lovely gifts. Eventually, these boxes make it easier for customers to symbolize the gifts they want to present. How?
For birthday gifts, you can apply velvet and bold color combinations
For Christmas gifts, you can make the boxes exceptional with red-green color combinations
By doing this, you can provide an even more memorable event for your beloved customers. Of course, the gifts will be even more special.
Coffee Mug Gift Boxes Extend Product''s Practical Value
There are some parts of the shopping experience you can easily customize. However, customized coffee mug gift boxes provide complete customization options.
The fact is, about 44% of customers said that premium packaging attracts them to purchase a product. Thus, when you can extend product''s practical value, you can level up their prices.
The Best Alternative to Thank Your Customers
When competing with many brands out there, your packaging boxes can be the only difference between you and your competitors. Modern customers will notice even small details you place on your packaging boxes. In this regard, you have to focus on making customers feel appreciated. Nothing says "thank you" better than actual concepts during a shopping experience.
Personalized cardboard boxes for mugs in your brand''s design will help them understand what to expect from your brand. For example, you can personalize your boxes with:
Mention the customer''s name in a greeting card and slip it into your boxes
Offer promotional discount offers exclusively made for future purchases
Custom hangtags with the customer''s name will show your gratitude
After all, without customers, your business might not reach the market spot you have reached now. Hence, we can confidently say that it will always be a good idea to thank your customers for choosing your brand. Far better, this warm gesture will convince those customers that they have made the right choice when purchasing from you. Well, what isn''t that sound wonderful?
Beautiful Gift-Like Packaging Helps You Increase Customer Loyalty
Now it''s time to discuss briefly about cash. Increasing your customer loyalty even as minimum as 5% can provide you with a great return of 25% to 95%. As a brand owner, you surely know that finding a new customer can cost you multiple times more than maintaining an existing customer. This is where gift-like packaging opens up an easy way to help you increase brand loyalty.
Using appealing boxes from coffee mug packaging boxes suppliers in your marketing strategy means that you can:
Deliver a better shopping experience for customers to make their future purchases
Charge more per product as the boxes extend the presentation value
Increase interest on customers to explore your brand
Retain existing customers while attracting the new ones
Help you earn more cash flow
Wrapping Up
Having unique gift boxes for coffee mugs will really help you boost sales easily. So, if you are excited to get and design unbeatable boxes for your products, USBoxPrinter is your reliable packaging partner!