Customized Lip Gloss Boxes - Let Us Have a Good Look at These Exclusive Boxes!
Published

By: John |

Published

On: 2022-08-22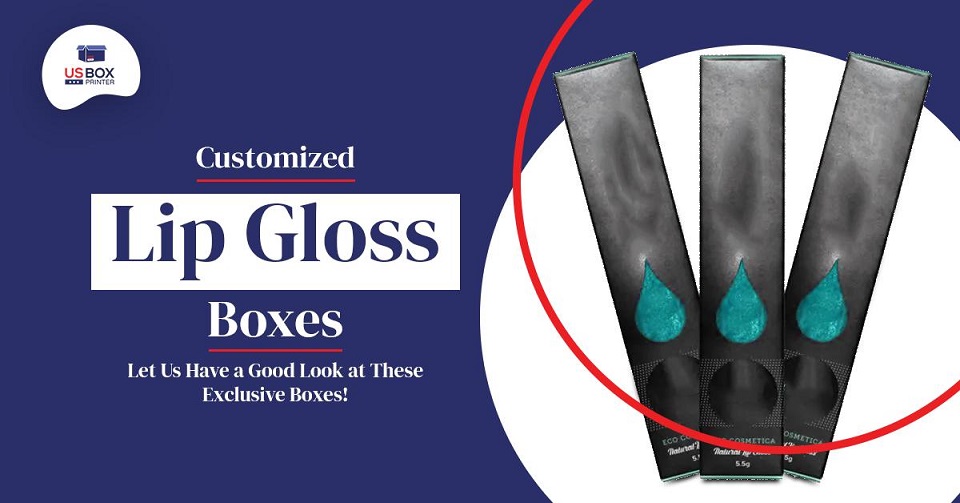 Cosmetic items are supposed to make women feel more beautiful and confident when applying them. Of course, these lovely items should also look as appealing as possible to draw maximum customer''s attention. Obviously, no woman will be attracted to purchase any single cosmetic item if it comes in unappealing product packaging. As one of the best sellers, lip gloss ends up having great market demand. Well, this doesn''t mean that you can simply sell your lip gloss items without a wow product display, right? Instead, you will need lovely and unique customized lip gloss boxes. Why? Let''s have a good look at these exclusive boxes!
The Role of Lip Gloss Box Packaging in Improving Your Business
After all the hustles you got when producing the most exclusive lip gloss items, will you bear to see them hanging there on the store shelves for a long time?
From the customer''s perspective, we know that some customers don''t want to purchase cosmetic items from brands they are not familiar with.
This is where your product packaging plays a huge role. When you pack your lip gloss items in unappealing or messy product packaging, will customers get attracted to purchase them? Obviously not.
On the other hand, when you pack them in beautifully designed lip gloss box packaging, well, we know the answer.
Yes, speaking of the role of exceptional customized lip gloss boxes, we can never deny that these boxes offer many benefits for your brand to grab.
Custom boxes are flexible to be designed according to your ideas and brand''s concepts
Personalized boxes can end up being the best tool for your marketing and branding strategy
Custom packaging reflects your brand image and the quality of your product perfectly
The right boxes will protect your sensitive cosmetic items
Indeed, there are many wonders these boxes can do to present and preserve your lip gloss items.
What Are the Benefits Offered by Custom Lip Gloss Packaging Boxes?
When it comes to promoting your cosmetic items, of course, you need to have the most exclusive boxes for this purpose. On the other hand, did you ever think that the boxes you use to present your items can eventually benefit your business in the long run?
Those standard packaging boxes might only end up being the boxes that wrap your items. However, when you use custom lip gloss packaging boxes, you will be amazed at the benefits these boxes offer. What are they? Keep on reading!
Unique Lip Gloss Packaging Makes Your Lip Gloss Look Unique
Again, the formula is very simple here. Your product display defines the quality of your item in customer''s eyes. Good or bad, your product packaging is the one that builds the image for your customers to get.
This is how we can say that unique lip gloss packaging will surely make your lip gloss look unique. In the ocean of many cosmetic items with their colorful packaging boxes, unique packaging will make your item pop up.
When you can catch customer''s eyes with a unique packaging design, it is no longer difficult to drive them to purchase your lip gloss.
Attractively Customized Lip Gloss Boxes Bring Your Brand Name into the Limelight
As we mentioned before, some customers will feel hesitant to purchase lip gloss items from a brand they are not familiar with. Some customers can even be very loyal to a specific cosmetic brand when purchasing these items. Why?
At this point, we understand why those customers will be very careful in choosing these items. Well, the reason is quite obvious actually. Cosmetic items will be applied to customer''s skin directly. Thus, they will surely choose your lip gloss items if they look convincing.
The good news is that you can bring your brand name into the limelight by having attractively customized lip gloss boxes. The moment those customers see your appealing boxes, they will be assured that your lip gloss items are of premium quality.
How About Designing Your Own Boxes?
Yes, you can design your own lip gloss box.
If you are wondering how to do this, many packaging companies will be ready to assist you. Of course, you need to choose a reliable and trustworthy one to work with.
When it comes to designing the loveliest boxes for lip gloss items, you will be free to apply your ideas and concepts.
By availing of complete customization options, you will get the freedom to:
Be creative with the packaging design
Ensure your boxes will be designed in accurate sizes and dimensions
Apply your branding theme and match the color of your boxes with it
Print relevant images and graphics to make your boxes look more dazzling
Use finishing options and add-ons to decorate your boxes
Highlight your cosmetic brand by printing a stunning brand name and logo
In simple words, designing your own boxes for lip gloss items will be an exciting thing you would not want to skip.
Save Our Environment with Eco-Friendly Lip Gloss Box Packaging
Going green with your packaging will never go wrong. Instead, your cosmetic business can earn more by considering eco-friendly lip gloss box packaging. Guess what? It is not difficult at all to design this packaging!
What you need to do is:
Using environmentally friendly packaging material such as kraft, cardboard, or paperboard
Reducing the packaging waste by measuring the exact size and dimension of your product packaging
Applying an eco-friendly printing technique with raised ink
Minimizing the customization options to apply to your product packaging
At the end of the day, wrapping your beautiful lip gloss items in eco-friendly packaging will help you make milestones in the market. How?
Customers are well-aware of the ongoing environmental issues. Thus, they prefer to purchase eco-friendly products. By using green packaging to wrap your lip gloss items, they will not think twice about bringing your items home.
Beautifully Customized Lip Gloss Boxes Help You Deliver a Memorable Unboxing Experience
When customers receive your lip gloss items at their front door, the first thing they will see is, of course, how you pack your items. If you deliver your items in standard boxes, they will perceive your brand to be the same as other cosmetic brands.
Without you realizing it, your boxes will be the best tool to help you deliver a memorable unboxing experience. On the other hand, if you pack your lip gloss items in beautifully customized lip gloss boxes, they will be excited. In this context, you will need to be more creative in designing and customizing the boxes.
To make your boxes look more memorable, you can do some wonders such as:
Design the boxes in unique shapes such as pillow boxes, window boxes, and other unique shapes
Make your customers feel more appreciated by adding a warmth greeting or "thank you note"
Tie your boxes around with elegant ribbons
Provide giveaways to drive customer''s future purchases
Using custom hangtags to mention your customer''s names will make them feel appreciated
The unboxing experience is highly important when it comes to building a strong customer base. Thus, you should never ignore this.
Wrapping Up
Customized lip gloss boxes can do more wonder when it comes to delivering your items with a wow product display. To design the boxes with your style, you can rely on USboxprinter. We have the best expertise and knowledge to assist you in designing perfect boxes for your lip gloss items!