Best 20 Minimalist Candle Packaging Ideas in 2023
Published

By: John |

Published

On: 2022-10-28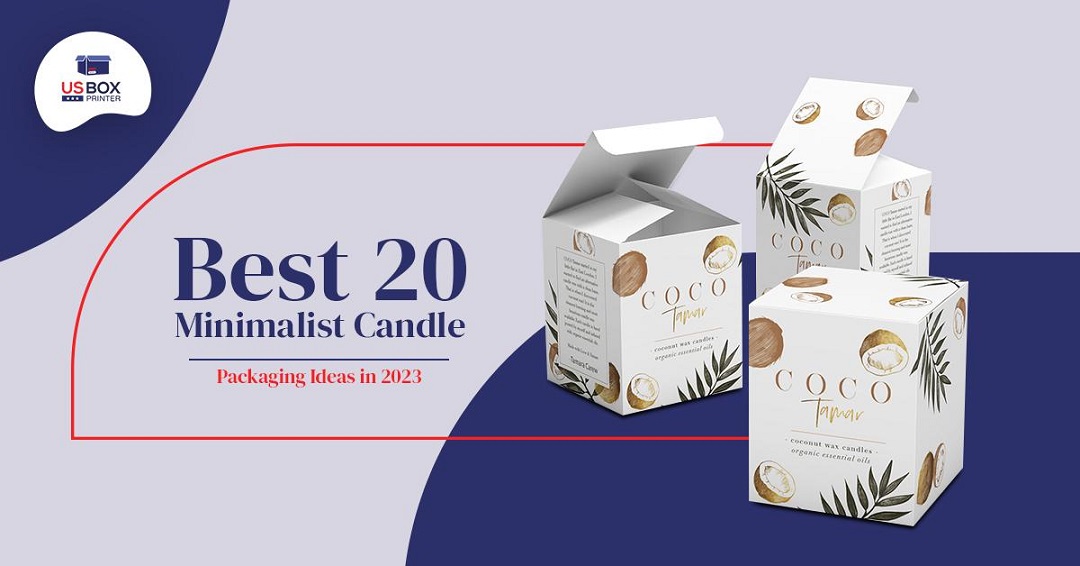 If you own a candle business, you know exactly that your packaging can make a difference in your success. Your candles here need to not only be visually appealing. More than that, they need to create an experience that offers your customers the scent you want to convey. Indeed, we can say that the possibilities are endless when it comes to candle packaging ideas. Let''s discover the best 20 minimalist candle packaging ideas to design your packaging in 2023!
1. Art Deco Wrapper Packaging Ideas for Candles
In 2023, Art Deco wrapper packaging ideas for candles are all the rage. The idea is roaming around:
Clean lines
Geometric shape
Apply gold and silver foil to add a touch of classy
The simple color palette allows the candle to stand out on any shelf
This elegant packaging style is perfect for presenting your candles in a branded style
2. A Flower-Themed Creative Candle Packaging Ideas
Yes, it is time to think about what trends will be significant in the world of packaging. Flower-themed creative candle packaging ideas will be a perfect option.
You can choose from various types of flowers, such as:
Mild flowers
Bold and vibrant flowers
Dainty floral candles theme
This packaging style will let you convey a message of freshness, femininity, and elegance with striking beauty. If you are looking for a stylish way to wrap your candles next year, this floral-themed packaging is perfect.
3. Chrome Luxury Candle Packaging Ideas
Chrome has become a popular packaging material in the last recent years. These luxury candle packaging ideas come with the following:
A unique luster
An eye-catching texture
The combination of those 2 factors makes a chic and professional impression. What''s more, the chrome finish also pairs well with colorful glow-in-the-dark candles. This packaging option will be perfect for gifts.
4. Place QR Codes On Minimalist Candle Packaging
Candle, customers can be directed to any scan destination (including playlists). In fact, today, candles are a great way to present gifts and party favors with a personal touch. You can also create an atmosphere for your customers by lighting candles and placing QR codes on minimalist candle packaging. The QR code can be for your favorite playlist or to direct your customers to your official website.
5. A Geometric Design for Custom Luxury Candle Boxes
Bold and eye-catching geometric designs for custom luxury candle boxes are sure to grab attention in 2023. With a variety of coating and finishing options available, you can easily create a unique look that sets your candle apart from the rest.
6. Eye-Catching Box Inserts for Candles Make a Strong Impression
Indeed, eye-catching box inserts for candles will be perfect to help you make a strong impression. Adding inserts into your packaging box will be the best way to organize multiple candles in an exclusive box.
You can also customize the box with your brand''s colors and logo. By doing this, your candles are sure to grab attention on the retail shelves.
7. Apply a Christmas Theme Is One of Nice Ways to Package a Candle
Selling candles during the Christmas season offer many advantages for your business. In addition to buying gifts, this is also a good time to sell products that help customers unwind from holiday preparations and relax after indulging in food, drink, and celebrations. One of the nice ways to package a candle this season is with a creative Christmas theme. This theme will let you add some holiday flair. Plus, this packaging design will make it easier for customers to hand out your candles as gifts.
8. Add a Tasteful Touch to Your Homemade Candle Packaging Ideas
Who doesn''t love candles in elegant glass jars? You can add a tasteful touch to homemade candle packaging ideas. How?
You can simply wrap your beautiful candles in a black or gold box. This type of box will add a touch of class to your candles. Eventually, this type of packaging serves as a noble package for your candles.
9. Make a Perfect Fit
If your jar of candles fits differently in a standard candle wrapper, you don''t need to worry. To solve this issue, you can design a box of the same size or larger and wrap your candles in clean paper. To make a more glamorous effect, you can try adding a lovely tie or bow.
10. Give a Sweet Surprise to Your Customers
Giving a sweet surprise is one of the unique and amazing candle packaging ideas. For instance, we know that candles can be a great gift for people who love to bake.
Thus, you can fill your packaging with:
Measuring spoons
Recipe books
Baking ingredients
11. A Minimalist Design Makes Unique Candle Packaging
A minimalist design can eventually make unique candle packaging. As time goes by, this trend may continue to gain popularity.
12. Custom Printed Candle Packaging
As technology advances, so does product packaging. The custom-printed candle packaging QR codes allow customers to access additional information about your brand and products from their mobile devices. With innovative printing technology, the possibilities are endless.
13. Try Out Silicone Coated Packaging
Without you realizing it, silicone comes with many advantages. Most importantly, silicone is a naturally biodegradable material. This material is ideal for creating waterproof and recyclable packaging for candles. The best part is that it is also liable to prevent water damage and breakage. Most importantly, this packaging option is cheap and fun.
14. Go with a Natural Look
Try wrapping your candles in burlap or other natural materials, such as burlap, for a more natural look. This will add a homemade touch to your gift that everyone will love. We all know that candles will be the perfect Christmas gifts. To add festive touches, you can decorate the packaging with:
Beautiful ornaments
Tinsel
Or even fake snow
15. 3D-Printed Candle Packaging Ideas
3D printing allows you to create detailed custom packaging that is impossible with traditional methods. Well, you can impress your customers with creative 3D-printed candle packaging ideas!
16. Consider a Lovely Winter Theme for Your Packaging
Try out a sophisticated chic design that depicts a winter scene of snow-covered trees and a falling snow theme. You can consider warm colors for creating a cozy and welcoming ambiance. Additionally, you can apply clean lines to give your product packaging a trendier and modern look. Remember that you can customize this winter theme to match your brand''s aesthetic.
17. How About New Year''s Packaging?
As we bid farewell to 2022 and welcome the new year, many are looking to make a fresh start. One way to grab more attention is to change your packaging design. The best option for 2023 is New Year''s packaging.
This includes:
Festive colors and designs such as gold and silver
Fun phrases such as ''cheers to the new year'' or "new beginnings"
In the end, these amazing gestures on your packaging will help you start the new year off right with your products.
18. Creative DIY Candle Packaging Ideas
All DIY candle packaging ideas seem profitable in the short term. However, if you want to attract customers, you will need to keep them affordable. This is the main reason for you to work with a reliable packaging company.
19. Metallic Packaging
There is always something new to see in the world of custom packaging. In addition, if you want to stay ahead of trends, you need to keep an eye out for the latest ideas. We all can see that the matte black has been trending for the last few years. This coating option make remarkable metallic packaging for your candles.
20. Simply Wrap Your Candles!
Yes, to make it simple, you can wrap your candle up in plain, clean white tissue paper. Then, you can tie it with a simple ribbon.
Have you ever tried wrapping your candle up in black or brown paper for a classic look?
This packaging idea is very simple, and elegant, yet timeless.
Wrapping up
So, are you ready to wrap your candles with the best candle packaging ideas in 2023? If you are, you can contact US Box Printer today!
Read Also: Luxury Candle Packaging Ideas - Sell More with Your Packaging!