2 Piece Candle Boxes - Earn More from Attractive Boxes!
Published

By: John |

Published

On: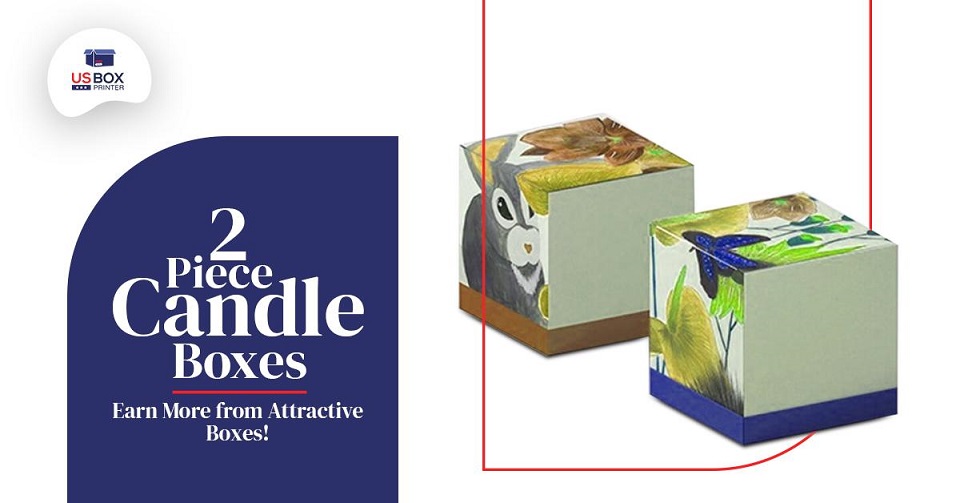 These days, many people buy candles to give to their loved ones. To present these lovely gifts, do you think they will go for a dull presentation? Of course not! If the presentation looks bad, customers will think that candles are not exclusive. In this context, if you plan to sell more of your candles, then sell them confidently! Well, you can eventually earn more by using attractive 2 piece candle boxes. How? Let''s dive in.
Why Two Piece Candle Boxes?
Have you ever heard about two piece candle box? The box comes with two components, including a tray and a lid. The tray is the part where your lovely candles will be placed. But why do you need to choose this box style? Here are some convincing reasons for this!
A unique layout of the box appeals to customers more
The box comes with high durability feature
This excellently designed box delivers a memorable product display
Beautiful 2 piece candle boxes are perfect to drive unboxing videos
The durable structure of the box helps you protect delicate candles perfectly
Tips and Tricks to Design Luxury Candle Boxes
Using luxury candle boxes to present your lovely candles will benefit your brand in the long run. Not only will you catch more eyes with these boxes. More than that, these boxes will be valuable to boost your sales and business profits within a brief time. But first, you will need to design the boxes ideally. Worry not! Below are some tips and tricks to design exceptional boxes for your sensitive candles!
Stay Simple
The key to designing visually appealing custom candle boxes is to stay simple. If you want to appeal to a wide range of customers, regardless of taste, a simple and minimalist approach will really help you create a design that suits everyone. On the other hand, if you really want to use multiple colors, don''t get hooked on them. Instead, you can try out to design colorful boxes in a small quantity to see the customer''s reaction.
Play with Vibrant Colors for Luxury Candle Packaging Boxes
Don''t hesitate to mix and match vibrant colors to design luxury candle packaging boxes. We know that some people associate something with a specific color. This is where you can use that association to your advantage. For example, some customers may associate pastel colors with blooming spring. This will help you sell your candles more in the cold winter. Or else, you can use red and green color combinations during Christmas.
Colorful boxes can be more appealing by applying a more neutral tone to them. This way, the colors of your 2 piece candle boxes will match different decorations.
Build Your Brand Image Through Luxury Candle Boxes Wholesale
When it comes to trying to improve the charm of your candles, spend time thinking about the image you are trying to create.
For example:
Add handwritten elements
Combine the perfect patterns with the colors of your brand logo
Offer elegant-looking boxes with classic color combinations such as silver, gold, or white
If you are thinking of building your image, luxury candle boxes wholesale can help you make the best impression in customers'' eyes. All you need to do is show some creativity through your boxes, and the charm of your candles will be undeniable.
Decorate Tea Light Candle Packaging Boxes with Add-Ons
If you really want to impress customers, you need to add a decorative aspect. Yes, it would help if you decorated tea light candle packaging boxes. These decorative add-ons can be:
Fancy ribbons that cover the opening and closing of the boxes
Add wrapping sheets such as beautiful leaves around the boxes
Decorate the boxes with classy ties
A glossy coating will make your boxes look more dazzling and bright
Polish the boxes with a matte coating for a more decent look
The decorative details will certainly enhance the appearance of your lovely candles. At the same time, by adding aesthetics, customers will feel more special.
Add a Beautiful Window to Your Two Piece Candle Box
A beautiful window will make two piece candle box more attractive. This window will work well to please your customers. As a result, this transparent window will help you to increase higher sales. How?
The window shape allows customers to take a look at and explore your candle inside the box. By presenting the actual look of your wonderful candles, those customers will trust your brand more. This will eventually make it easier for them to make their purchasing decisions. When you can convince them, they will also recommend your candles and brand to their friends and family. Yes, more sales!
Embossed Custom Candle Boxes Are Amazing
Not only do you need to choose a unique style for your custom candle boxes carefully. Well, the good thing is that this is not the only way to express your brand identity. Another excellent way for you to do this is by embossing the boxes. The effect made by the embossing technique will make let you attract the attention of customers in every retail store. At the same time, you will get the chance to highlight your candle brand and reach a wider target audience.
Spot UV Makes Your 2 Piece Candle Boxes Look More Luxurious
Keep in mind that your main goal here is to turn the head of every passerby on the store. Well, nothing beats Spot UV in this regard. This finishing technique allows you to improve the appearance of your 2 piece candle boxes quickly. This technique will work well to give your box design a shinier look. Far better, this technique will let you shield your boxes and protect them from unwanted damage.
Final Thoughts
To achieve a successful candle brand image requires more effort than you thought before. However, uniquely designed 2 piece candle boxes can help earn more profits and reach success easily. So, do you think these boxes are worth having? If you do think so, you can get unbeatable boxes with custom designs at US Box Printer.
Happy designing!
Read Also:Luxury Candle Packaging Ideas - Sell More with Your Packaging!